Long curly hair locks are a dream! They look super stunning!
But then again, there is a fine silver lining between your lustrous locks looking glamorous, red-carpet-ready or like Medusa's head of snakes. You would obviously want the former one, and for that, you have to know how to style curly tresses so that they always complement your look.
Below, we have talked about more than a few easy yet sexy hairdos that you can try on your long curly locks to always look camera-ready like a true fashionista.
However, if you don't have curly strands but still want to adorn your long tresses with the following hairstyles, you can always use a curling iron for long hair to first create those lustrous curls and then style them accordingly. We prefer this Infinity Pro by Conair Nano Tourmaline Ceramic Curling Iron to create versatile curls in long hair locks.
Now let's go back to the easy hairstyles for long curly hair:
1. The Half-up half-down Ponytail
This is a super simple yet extremely effective hairstyle to sport on a busy morning when you woke up late and running out of time. Even though it seems that this style requires some serious effort, in reality, you just need a few minutes to create it on your manes perfectly.
First, using an appropriate hairbrush through your manes to get rid of any tangles and knots. Then apply some mousse to the manes and part them horizontally at the crown. Now with the upper part, construct a ponytail and tie it comfortably with a rubber band so that it remains in place all day long.
2. A Romantic Updo
If you have an event to attend (like a wedding or evening party) and you don't know how to deck up your long curly manes flawlessly, it's always advised to try the classic romantic updo in them. This updo is easy, effortless yet would always give you a Greek goddess vibe to make you stand confidently in the crowd.
Start off with clean, perfectly dried manes. Apply a bit of anti-frizz serum (such as this John Frieda Frizz Ease Extra Strength Serum) so that your tresses look polished and smooth throughout the day. Now after combing the manes thoroughly, slightly side part your manes and section off a handful of hairs at the front. Keep this section separate.
Then with the rest of your curly tresses, construct a low messy bun just above the nape of your neck and secure it with bobby pins.
Now, take the front part of your hair (the ones you kept separated) and create a loose, messy braid with it. Bring back the braid and wrap it around the bun securely with lots of bobby pins. Spritz on some hair spray to make sure that the hairdo remains intact in place.
3. Messy, Loose Top Knot
The messy yet sexy top knot is all the rage right now and why would you be left behind? Deck up your long curly manes with this relaxed, laid back hairdo and get all the attention you deserve!
Begin your styling by flipping all your hair upside down and gather them together to tie a loose ponytail on the crown of your head. As we are aiming for a messy outlook, we do not prefer combing the tresses.
After that, divide the ponytail into two equal sections and start wrapping them around each other all the way down to make them into one piece. Now, wrap this twisted piece of hair around the ponytail to form a bun. Secure the bun with lots of bobby pins so that it doesn't fall down even when you are having a rough day.
You can also pull off some curly strands from the front and side of your face and let them down to add more definition to the look.
4. Slicked-Back Ponytail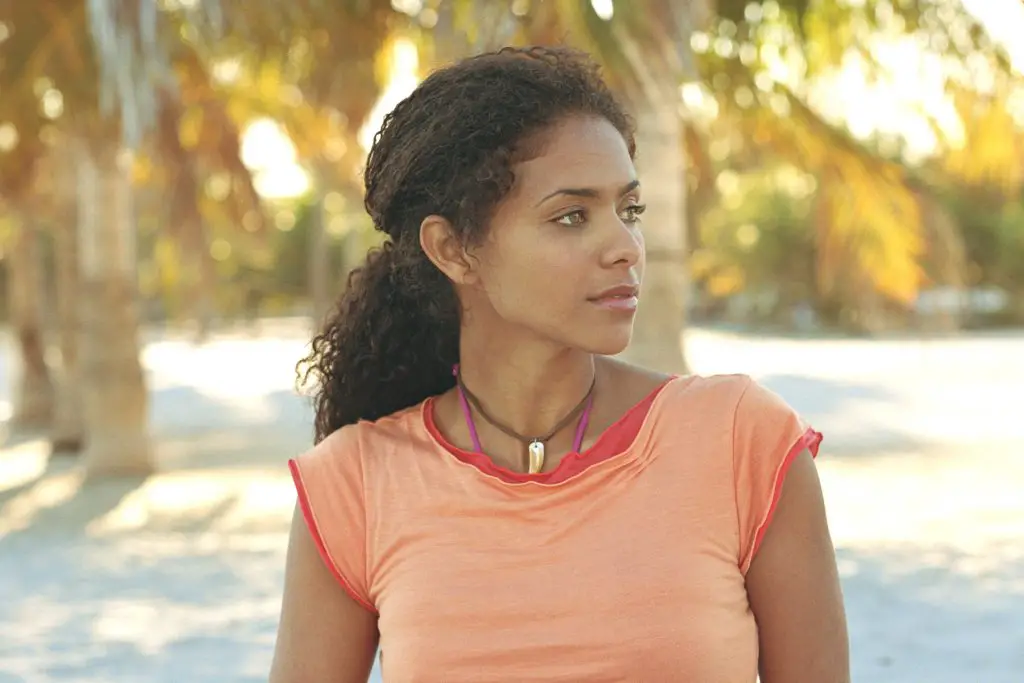 Even though the ponytail a simple and tried many times hairstyle for curly-haired girls, this slicked-back style gives your otherwise ordinary ponytail a more polished and vibrant look. You can sport this hairdo with your office suite as well as with formal dress and gowns.
Start by applying a handful of hair gel (like this Biosilk Glazing Gel) to the front part of your head to add a glossy and sleek look to your front manes. Now with a boar bristle brush comb a few times through your gelled hair to smooth them out and then gather all the hair strands at the nape of your neck to tie them all into a tight ponytail so your curls stay down.
Don't forget to spritz on a holding spray to keep your look lock into place for an extended period of time.
We prefer the L'Oreal Paris Elnett Satin Extra Strong Hold Hairspray for its super stronghold.
5. Braided Ponytail
Another way to give your every-day hairstyle a much-needed twist is by weaving a short fishtail braid at the base of your long luscious curly hair strands. This hairdo would not only level-up your hair game by several notches but at the same time also make you look damn pretty yet stylish.
First, put on a bit of texturizing mousse (we prefer this Shea Moisture Coconut & Hibiscus Frizz-free Curl Mousse) to your tresses to enhance the curls as well as remove the disturbing frizz from them. Now comb thoroughly and from the nape of the neck start constructing a fishtail braid.
Once the braid is 4-5 inches long, tie the end of the braid with an elastic band and let the rest of the hair stay loose. From the non-braided part, take a small section of hair and wrap it around the elastic band to cover it up and give the style a more natural look.
---
---