Congrats! You are naturally blessed with curls, volume, and texture! However, you can go curly to straight in a matter of minutes! Beyonce, Rihanna, Anna Hathaway or Taylor Swift have proved it over and over again. Your hair may need more time to style but it lasts longer too. Thus, you don't need to design frequently which saves your time as well as your hair. You can easily grow longer hair, only if you put a little effort to control the dryness.
Our Top Pick for Dry, Curly, Thick/Coarse Hair

Hot Tools® Tourmaline Tools 1 1/2″ Curling Iron (#2102)
You can't create any lasting style on Dry, Curly, Thick/Coarse hair without high heat however the natural dry tendency of this hair type is the reason you should use ceramic tourmaline combination. Otherwise, your super high hair will soon become weak, brittle and lifeless.
Ordinary curling irons start heating the hair from outside slowly reaching to the center causing the surface to dry out. Ceramic releases far-infrared heat starting at the center working on hair from inside out safeguarding natural moisture of the hair and tourmaline releases negative ions to lock the hair cuticle to make your curls smooth and glossy. It will give you lasting voluptuous curls while keeping your hair healthy and hydrated.
Particular

barrel size and style chart for Dry, Curly, Thick/Coarse Hair
This following style chart is exclusively made for Dry, Curly, Thick/Coarse hair. If this is not your hair type, please don't follow this
Short, Medium and Long hair require different curling irons to achieve the same hairstyle, therefore, do

monitor

the table according to your hair length. People with shorter hair should use smaller barrels or big barrels with 

lower

section for evident hairstyles
For a uniform salon polished look, you have to section your hair as identically as possible. How large or tiny the hair sections should be will depend on the length of your hair as well as the barrel size you are using
Every rule has exceptions, but normally, the bigger the barrel is, the thinner the section of hair should be, especially for visible effect on short hair. However, in the end, it's all about how you want to look so feel free to make thinner or wider section if you think it will suit you better. If you are still confused about how big or small the section of hair should be taken to

a particular

style, please check the style and measurement chart below where we have given a specific width of the section of hair for

traditional

styles in the following manner.

(big) section = the width of the section should be 2" approx."
(Medium) section = 1.5" approx.
(Normal) section = 1" Inch
(Small) Section = ¾" Inch, Approx. bigger than half but smaller than 1"
(Thin) section = ½" Inch approx
Click on your hairstyle below to open the style and measurement style:
How to Style Your Hair
However, the strong and mighty superhero hair that you have must fight with some super villains such as the following ones,
Dandruff: Your hair, as well as, the scalp tends to become dry because of dandruff. Anti-dandruff shampoos are the only hope but use it only on the scalp. Spare the middle to bottom part.
Frizz: The scalp produces natural oil to keep the hair cuticle smooth but the curly coils of your hair prevent this oil

from flowing down from the roots to the lower parts causing roughness and frizz

.
Split ends: If you do not use a deep conditioner once or twice a month, you are likely to suffer from split ends. Your hair is the thickest thus keeping it hydrated and conditioned is a necessity. A healthy diet, plenty of water, exercise and meditation will rejuvenate your crowning glory back to its original state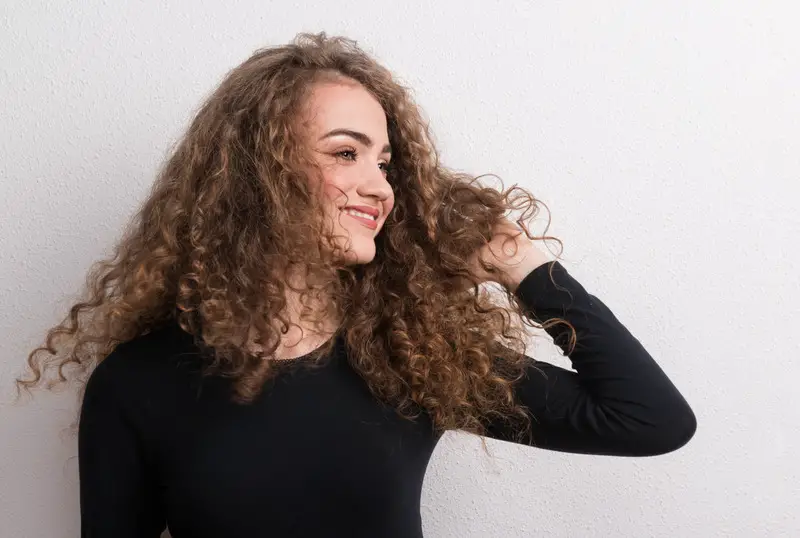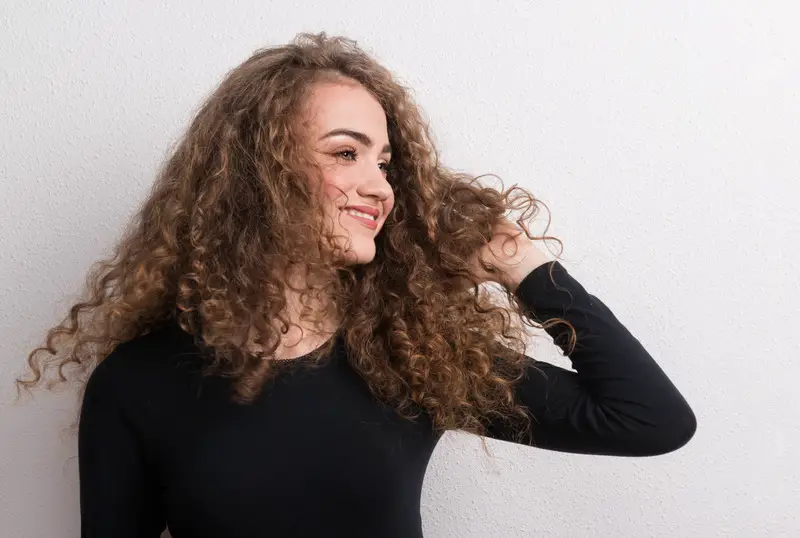 Based on this, this is the best way to style your hair:
1. The products: Protein-based shampoo and conditioners are your best weapon to fight against that dreaded dryness and frizz. Make sure you always use shampoo and conditioner made particularly for your hair type as well as use some leaves in conditioner. Drink plenty of water and eat healthily. Just like you don't feel great on your bad hair day, your hair suffers when you are stressed, tired or nutritionally unbalanced. Rejuvenate your hair with healthy regular eating and drinking habits. A healthy diet, exercise, and overall healthy lifestyle is a must for shiny, lively and bouncy curls.
2. Styling tools: Don't compromise when it comes to styling tools. Your hair can't be controlled without specialized professional standard tools. You need a curling iron that will give you constant even high heat but won't fry your curls. The best curling iron that will give you long-lasting, gorgeous, damage-free hairstyles for your hair type is given in the tables above.
Tips and tricks
As you have Dry, Curly, Thick/Coarse Hair wash your hair with shampoo with conditioner and use some leaves in conditioner for extra softness
Use heat protector serum but leave the roots and scalp
Do not use hairspray on hair sections before rolling it on the curler. Aerosol sprays should never be exposed to heat so practice caution. It may make your hair stick to the surface of the barrel and snag too. It may also permanently damage the outer coating of your curling iron so imagine the damage it will do to your hair!
Gather the curled section and bobby pin it to cool down. Thick and coarse hair are bulky so if you let the hot curl drop right just after curling it may become flat due to weight
When your complete head is done and cooled down. Gently shake your head a few times and position the curls as you wish. Once you are satisfied, use hair spray. If you use hair spray instantly after curling the hair, your curls may look stiff and unnatural. Although style such as vintage curls and retro waves often demand stiffness so if those are the look you want then you may use hair spray immediately after curling. After all, it's all about how you want to look in the end
While using bigger barrels make thinner sections for spiral and when curling with smaller barrels make hair part bigger for fuller looks
---
Other Styling Tools You May Love in 2021
---