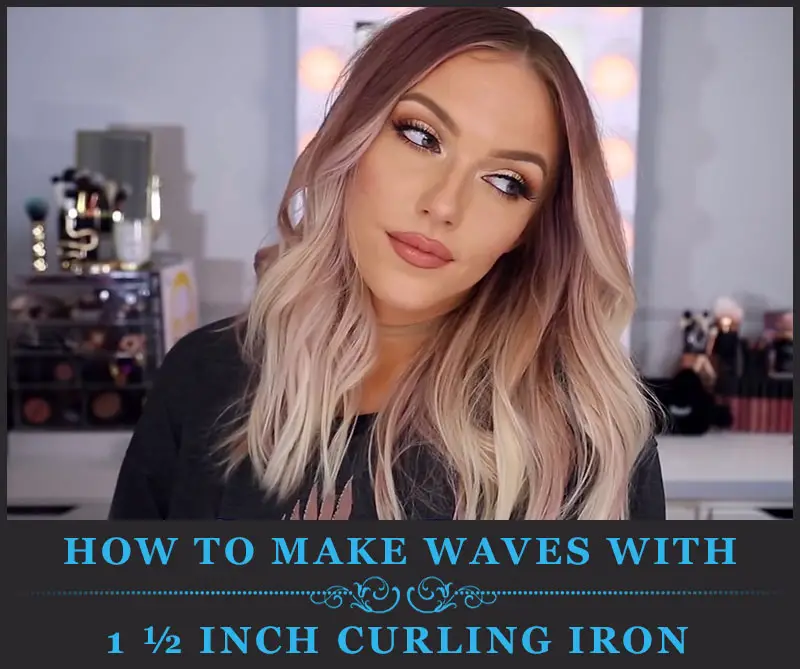 If making waves in your hair is your style, then blindly take a 1 ½ inch curling iron. This style goes with most of the hair length, like medium, long, super long. Those, who have stubborn straight hair or frizzy hair, it can be your perfect hairstyle.
The path towards curling
What are the must-have things? Want to prepare? See below–
Large hairbrush.
Heat protecting serum.
Hairspray.
Rubber band.
Hair clip.
1 ½ inch curling iron machine.
This is how you can get waves in your hair
Step 1: After letting your iron to get heated up, start brushing your messy hair with a large hairbrush. Then allocate your hair into 2 sections and tie the upper portion of hair with a hairband. You can go for 3 layers if your hair is too thick.
Step 2: Now, this is very important. Spray heat protecting serum to the lower portion as you are going to curl it. Then brush your hair with a paddle brush for mixing it properly. Then, divide this section as well into 2.
Step 3: Let's get started. Take 3-inch wide section each time. Place the top of the section between the curling iron clamps rotate it until you reach the end. Wait for 10 seconds to get a perfect curl. Now release the clamps to remove your hair from the iron.
Step 4: Repeat it, but of course, do the reverse rotation for a flawless curl. This is how you are done with the lower section of hair.
Step 5: Now, untie the upper section of hair. Follow the procedures in the previous section.
Step 6: But you must remember that front hair won`t be that much curly. It will just get a wavy touch. So, put your hair between the clamps for 5-7 seconds.
Step 7: Finally, allow your hair to be untouched until it is cooled down. Then set the hair with hair setting spray.  

Want to look like Selena? Loved those waves? Then try it following the rules.
Tips to follow
You have to be more cautious about making your hair long-lasting than to curl it because wavy hair can be messed up so easily.
Start from the root, not from the end for a perfect shape.
Temperature must be between 200-300 degrees.
Use hairspray, as it is the only thing that can make wavy hair last.
You may use sea salt as a natural.
Now you can choose your suitable product here, considering your budget and preferences.
Hot Tools Professional 1102 Curling Iron with Multi-Heat Control; Big Bumper 1-1/2 Inch
Hot Tools Professional 2102 Ceramic Titanium Professional Curling Iron, 1-1/2 Inch
Infiniti Pro by Conair Nano Tourmaline Ceramic Curling Iron – 1-1/2 Inch
---
---