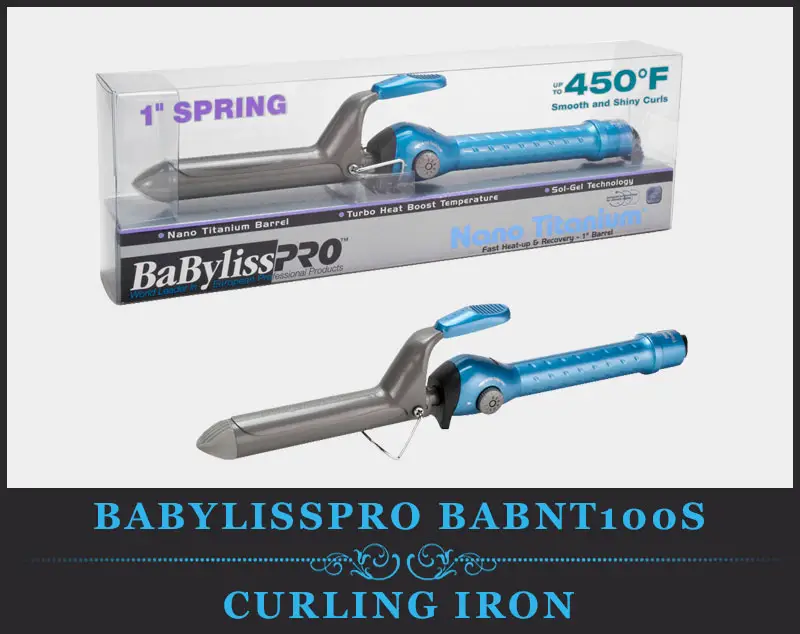 My quest for best curling comes to an end because I have finally found the best one for my hair. It was one of the most challenging tasks for me as the market was flooded with numerous curlers. It is very tough to find all the user-friendly features within one product. You will always need to sacrifice some good attributes while you select one product over another. However, never sacrifice a few basic attributes like the material of the barrel, heat setting, etc. Babyliss Professional Nano Titanium Spring Curling Iron is the product that you will love to use over and over again. Good things about this product are presented below followed by some bad sides that you need to consider before buying this product:

Babyliss Pro BABNT100S Professional Nano Titanium Spring Curling Iron Specification
Item
Details
Product Name
Babyliss Pro BABNT100S Professional Nano Titanium Spring Curling Iron
Brand
Babyliss
Product Color
Ash color barrel with shiny blue handle
Barrel Size
1"
Material
Titanium
Best Suited Hair Length
Medium short to long hair
Best Suited Hair Type
Thin to coarse
Best Suited Hair Style
Loose curls
Specialty
Titanium barrel, Sol-gel technology and Turbo heat button
Overall Product Size
14 x 1.5 x 3.2 inches
Weight
12.8 ounces
Voltage System/Limit
110-120V
Plug-in system (US/Europe)
US plug-in system
Chord length
8 feet swivel cord
Heating Temperature
50 heat settings; up to 450°F
Why you should buy this product?



22% smoother barrel because of Sol-gel technology


Instant and even heat distribution


Far infrared heat works on inside-out


Negative ions protects from hair damaging


Multiple heating levels


Titanium technology keeps hair moisture to generate glowing curls


Light weight


Faster heat-up



Negative issues of the product



No auto shut-off button


Missing universal DUAL voltage


Cool tip gets hot


Need converter to work on different voltage system



Additional Equipment



Turbo Heat switch


User guide


Tangle free chord



Price
$25.99
Warranty
2 years
---
---
Nano titanium barrel
The material of the barrel always matters. Always be careful about it because little carelessness can put your hair at stake. You must be knowing from the title that this product has Nano Titanium barrel.
Benefits of this material in curling irons are as follows:
Instant heat: Just think of a situation when you are in a hurry and your curler is taking a long time to heat up. It can ruin your plan because no one is going to wait for you wasting their time. If you have one of this curlers, you will never be late. It is possible because of the attributes of Titanium
Even distribution of temperature: Heat can be deadly for your hair. If the barrel of the curler gets too hot and the temperature is not right even, it will do serious bad effects on your hair that you will never want to imagine. This curler gives you evenly distributed heat to get the curls you wanted remaining gentle to your hair at the same time.
Extra smooth surface: Tangled damaged hair is a typical scenario in hair curling world that can be caused only by your negligence to the material of the curling irons barrel you are going to buy. Titanium barrel curling irons are extra smooth on hair. Its smooth surface will ensure the best care by keeping hair away from any type of potential damage.
Moisture retention: Glowing curly hair will make you look like a dazzling star in the crowd. Anyone around you cannot help looking at your hair if you curl your hair using Babyliss Professional Nano Titanium Spring Curling Iron. Its titanium technology ensures that your hair contains moisture to look your hair healthy.
Far-infrared heat: Infrared heat is superior to a traditional heating system. Titanium property produces maximum far-infrared heat which has a deep penetrating ability. It warms up the hair from the inside out. You will get a professional-quality result without any extent of the damage.
Negative ions: Positive ions damage hair. So, you need to neutralize some positive ions to save your precious hair. This curler releases a maximum amount of negative ions which will neutralize the positive ions existing in your hair. Eventually, you will find your hair so shiny and healthy looking that everyone will keep watching you over and over again.
Rust preventing property: Hair curler may get rusty day by day. It depends on ownership of the curling iron's barrel. This curling iron has titanium which works as a fortification against corrosion. So, enjoy the rust-free curling tool.
For Details, Price and Coupon – CHECK AMAZON
Sol-Gel technology:
The surface of the barrel must be smooth so that your hair does not get sticky on the surface of the barrel. There are many products in the market for curling your hair. None of them has anything like the product I am presenting to you now. This product has "Sol-gel technology" to ensure that the barrel of the iron becomes smoother than that of any other products. This technology makes the iron's barrel 22% smoother compared to the smoothness of any other quality irons.
50 heat settings:
Most of the curlers are not suitable for every type of hair. You may find some of them suitable for thin hair but do not have any effect on thick or coarse hair. Some of them are suitable for thick and coarse, and they are quite unusable for thin or damaged hair. This product is one of the very few products which is usable on damaged to coarse hair. This product has fifty heat settings which give you heat up to 450°F.
It is a distinctive feature that helps the curler boost heat immediately. Time is money. This curler will save your valuable time. All you need to do is to push the turbo heat button, and you will find it hot within a short time.
8-foot tangle-free swivel cord:
I like long length cable because you would not like to confine yourself to a power outlet. This stuff has 8' long cable that will allow you independence in using the curler in any place. When is the cable so long then does it get tangled? Not even a chance as the cable in this product is a tangle-free swivel cord.
Wrong sides that require paying attention:
No auto on/off button: This product has on/off switch but lacks auto on/off feature. You might experience discomfort due to the absence of this feature.
Single voltage: This product does not have a universal dual voltage. You may need to carry a converter while you travel to make this compatible with different voltage patterns.
Tip gets hot: This product has a tip which gets hot too. You need to be extra cautious to prevent yourself from burning.
Summary of Babyliss Pro BABNT100S Professional Nano Titanium Spring Curling Iron
Overall Rating by Author -

9.1/10
Final Verdict
Hair is priceless. A quality product will save your hair from any casualties. Take this product because I am pretty sure that this is one of the best curling irons in the market. Curling hair is such a style that worth doing anything.
Comments Rating
( reviews)