Conair Infiniti Pro Curl Secret Curling Iron comes with revolutionary technologies in the market. It doesn't have anything like a rod or wand. It has a special type of barrel and the magic happens inside it. The hair is automatically drawn inside the curler and after a certain time, it all comes out. The automatic running system makes curling easy.
This Conair Infiniti Pro Curl Secret Curling Iron is such a product that will provide you with what you want. This has the awesome auto- turnoff technology, fast heat recovery facility, 5-year warranty, and so many awesome features.
Conair Infiniti Pro Curl Secret Curling Iron Specification
Item
Details
Product Name
Conair Infiniti Pro Curl Secret Curling Iron
Brand
Conair
Product Color
2 colors: Purple & Magenta
Barrel Size
¾"
Material
Tourmaline Ceramic
Best Suited Hair Type
Any
Best Suited Hair Length
Any
Best Suited Hair Style
Any
Specialty
In this blog, this curling iron is selected as the best professional curling iron.
Overall Product Size
3.5 x 6 x 13 inches
Weight
2.3 pounds
Voltage System/Limit
110V
Plug-in system (US/Europe)
US outlet
Chord length
6 feet
Heating Temperature
2 heat levels:

3 time settings:




8 seconds (3 beeps) – Loose curls (low)


10 seconds (4 beeps) – Medium curls (low/high)


12 seconds (5 beeps) – Tight curls (high)



Why you should buy this product?



Generates perfect salon look shiny, soft curls


Powerful long lasting motor


Generates heats 400°F maximum


High-performance heater technology provides even heats within 30 seconds


Different heat levels and time settings


Ergonomic design


Features sleep mode for saving power consumption


Built-in curl chamber & barrel


Extended warranty limits



Negative issues of the product



Weighty curling iron


Take more time at starting (25-30 seconds)


Wide hair sections could be trapped



Additional Equipment



User guide


Simple twist barrel cleaner



Price
$69.99
Warranty
5 years
Pros
Tourmaline ceramic technology
Tourmaline ceramic technology is heavily helpful for giving your hair a perfect saloon line shiny and smooth curl. This iron contains tourmaline ceramic which is heated evenly and properly, gives a smooth and nice curl. So, there is no more haste in getting a perfectly smooth curl.
---
---
High heating facility
While curling your hair it's a basic need to have the proper amount of heat required. If you are to curl your seriously unruly hair, then a high level of heat is a must. This iron heats up to 400F. This level of heat is enough for any kind of hair to get any kind of curl done. Even your long thick hair will get a perfect curly look.
Professional brushless motor and long-life motor
This iron provides you with Professional brushless motor. This technology is very much helpful for your hair. This aids in the process of a smooth and perfect curl. It boosts the task. This awesome product also has a long life motor that comes with a safety sensor that ensures tangle-free curl. If you put too much hair into the clamp or if your hair is tangled inside the clamp it will start beeping and instantly stop curling. Isn't it great for you?
High-performance heater technology
A very important part of any curling iron is the heating facility it provides. This iron has put special importance on this issue. This iron has a high-performance heater which ensures instant heat up and recovery. This technology makes the iron getting heat up only in 30 seconds.
When you plug in the iron, the red light of the iron starts blinking. This means it's heating up and when the blinking stops and the red light gets solid, it means you are ready to go.  So, no waste of time, no extra effort and easily get perfect heat to start a happy curling session.
2 heat levels and 3 times setting
For your convenience, this iron has 2 heat setting which helps you to set the iron on a perfect heating level. These two levels are HIGH and LOW. It reaches to the highest level of 400F. And for setting the desired time this iron has 3 time setting too which helps you to set the preferable time length. It comes with 8, 10 and 12 seconds time length.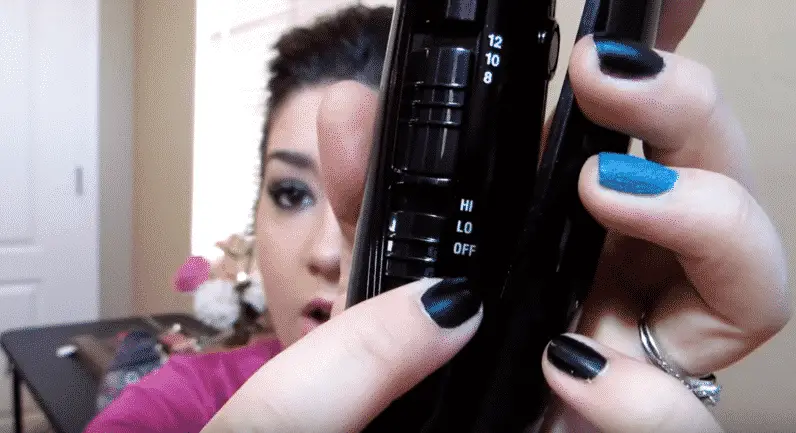 Here we can the heat settings and the timer. When you place your hair inside the clamps and close the clamp, it slides your hair into the motor. Then when it's time to open the clamp and take out your hair it beeps. For 8 seconds you will hear 3 beeps, for 10 seconds there will be 4 beeps and for 12 seconds there will be 5 beeps. After the beeping stops open the clamps and take out your hair.
This iron works like a pro regardless of the length or type of hair.
For a better grasp over the styles you can get, the temperature you need to set and the timer you got to set here we have a short description for you. Remember this chart is applicable for all hair types.
Loose curls
| Heat Settings | Low |
| --- | --- |
| Timer | 8 or 10 seconds |
| Release | 3 or 4 beeps |
Medium curls
| Heat Settings | Low or high |
| --- | --- |
| Timer | 10 seconds |
| Release | 4 beeps |
Tight curls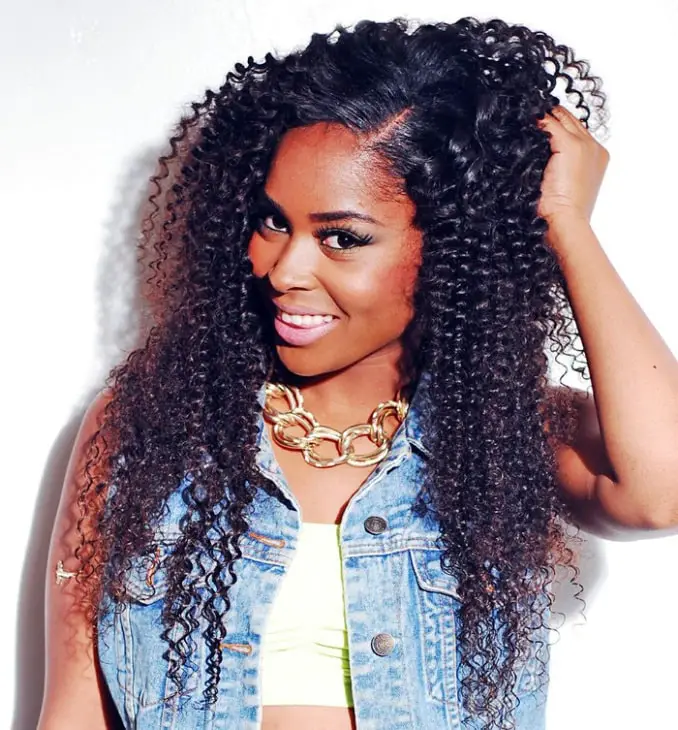 | Heat settings | High |
| --- | --- |
| Timer | 10 or 12 seconds |
| Release | 4 or 5 beeps |
(For fine hair the lower temperature and time setting will give the best result and for thick hair, high heat setting and time setting will bring the best result.)
For Details, Price and Coupon – CHECK AMAZON
6' swivel cord
Who would like to face the annoying tangled in the cord? It's a common problem with the iron cords. But that's with a random iron cord. This product has a 6' long swivel cord which is tangle-free and lets you use the iron without any such kind of interruption. Just move the iron freely and let your hair curl.
Five years warranty
It's always great to feel safe. And when you are buying an iron you would want to feel safe and have the assurance of its durability. This iron comes with five years warranty. If you face any problem with the iron no need to worry. There is a five years warranty for you. Warranty for five long years is impressive. Isn't it?
¾ inch built-in barrel and curl chamber
This awesome product has a ¾ inch built-in barrel and curl chamber. This is a revolutionary technology to add a little more twist to your regular curling system. This makes curling easy. Place your hair inside the clamp. It will simply slide hair into the curling chamber and the curled hair will come out.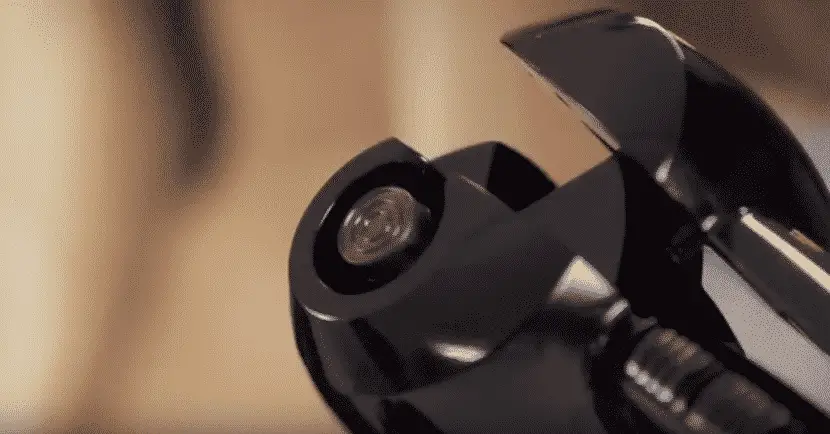 This is the clamp and inside it, there is the built-in barrel and curl chamber.
You got to place your hair right at this spot and lock the clamp. The rest will be done by the iron.
Easy twist barrel cleaner
It's annoying if cleaning the iron barrel takes unnecessary efforts. This iron comes with an easy twist barrel cleaner which will clean the barrel just with one twist. Twist and get the barrel cleaned.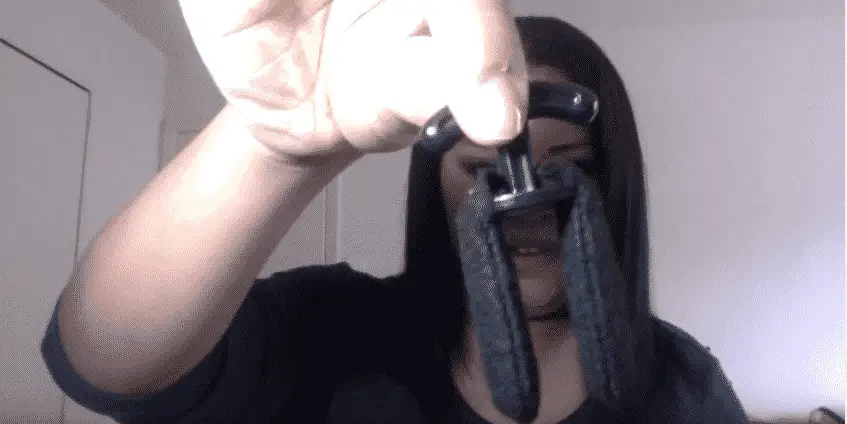 Here we can see the barrel cleaner. It's so simple to use.
Just place it inside the built-in barrel as we can see in this picture. Then simply twist the cleaner with your finger. After a while, it will get fully clean.
These are the best features of this iron. If it has all the qualities you have been seeking for, go and get yours. Start making your hair more gorgeous.
The cons
This iron is too heavy. It is 2.3 pounds which is way too much than other irons of this type. The highest weight of other same category irons won't exceed 2 pounds. This iron hurts hand after longer use.
For wide sections, your hair will get caught.
Takes a bit more time at first ( 25-30 seconds)
If used too much close to your head, it will hurt you.
Tips
Make sure your hair is dry and clean before using it.
Make sure the red light gets solid and stops blinking before using.
Carefully listen to the beeps before opening the clamp and removing your hair.
Don't put too much hair inside the clamp. Tie your hair properly and divide your hair into sections before using.
Make sure the part shown on the picture faces your head. Just like the picture.
Use a texturizing spray for more volume.
Summary of Conair Infiniti Pro Curl Secret Curling Iron
Overall Rating by Author -

9.4/10
Final Verdict
Life is too short for boring hair. Love your hair. Break the cage of boring hair and make your hair the best ornament you can ever wear. This is one of the best curling iron in the market now.