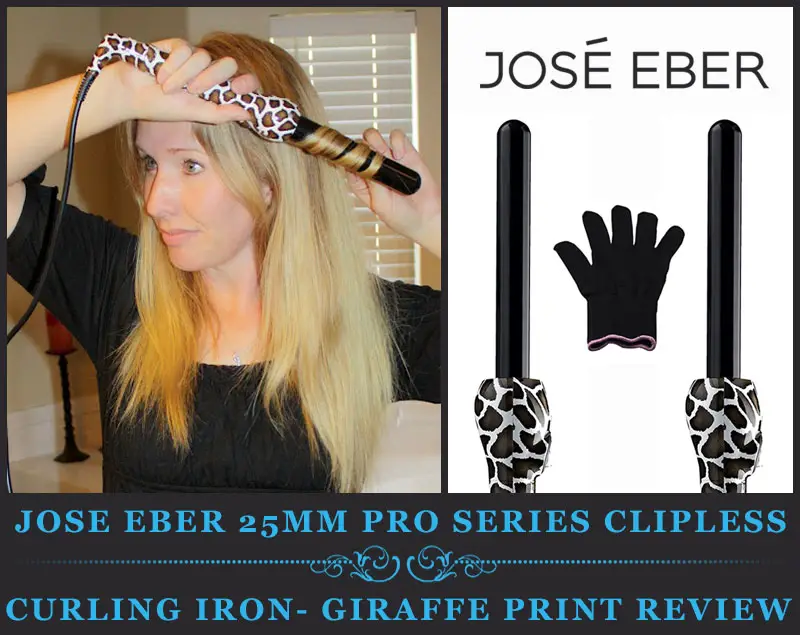 From a formal office meeting to a happening party, a hair setting instrument for a stylish hairdo always gives you an advantage and saves time in getting ready. A revolution has been brought to the design of curling irons by removing the clips from the curling irons and manufacturing the barrel with materials that provide the latest technology, lasting curls and comparatively a lot less damage to hair.
Last but not the least; it saves a lot of time. This curling iron can come in handy on the date of urgency like during meetings, from a meeting to a party and especially when time is limited.
Jose Eber 25mm Pro Series Clipless Curling Iron Specification
Item
Details
Product Name
Jose Eber 25mm Pro Series Clipless Curling Iron
Brand
Jose Eber
Product Color
Black barrel with Giraffe/Zebra printed handle
Barrel Size
25mm (1") clip less barrel
Barrel Material
Korean tourmaline ceramic barrel
Best Suited Hair Length
Suits to short and medium hair
Best Suited Hair Type
Fine, thin as well as thick hair
Best Suited Hair Style
Great for retro waves and beachy styles
Specialty
Creates voluminous and lasting curls
Overall Product Size
12 x 4 x 2.2 inches
Weight
1 pound
Voltage System/Limit
Dual (110v-240v)
Plug-in system (US/Europe)
US plug-in system
Chord length
Flexible 8 feet 360 degree revolving chord
Heating Temperature
Maximum temperature: 410°F
Why you should buy this product?



Durable


Negative ion technology lock extra humidity impact on hair


Korean tourmaline technology supplies identical heat distribution


Multiple heat settings


Provides healthier option on weak parts of hair


Aluminum coated barrel provides constant heat


Smooth surface reduces frizzes and creates tangle free curls


Rough and resistant free feature protect hairs from damages


Generates long lasting curls for 2 days



Negative issues of the product



Long hair users' could face problem with small barrel


Tighter curls may create tangled hair



Heat control system is not user friendly



Additional Equipment



Heat resistive glove


User guide


Smooth rotating handle


Non stick surface easy to clean



Price
$49.99
Warranty
Life time
Pros
Dual voltage
This curling iron is dual voltage and is of 110-240V. It has a voltage up-down resistance system, and the cord does not heat up while using it.
---
---
Barrel size
The size of the barrel is 25mm (1") clipless barrel. It provides the iron the ability to create a variety of curls. Its barrel size allows curling a larger section of hair and also oversized sections and waves.
Exceptional design
This clipless curling iron has an excellent design. It weighs less in comparison to other curling irons and is built of ergonomic design. The latest designs and technologies have been used in it.
The long-lasting curl advantage
The Jose Eber Clipless curling iron provides pictorial waves and lasting curls. Many users confirmed to the fact that the curls stay as long as two days without even spraying. Often spraying damages hair and causes hair fall to sensitive hair.
Friction and resistance-free features
The Jose Eber Clipless curling iron curls hair without any friction and resistance. The new technology allows this feature. In this way, the hair is not damaged after curling. As a result, it can be used regularly.
Available in latest Ceramic Technologies
The Jose Eber Clipless curling iron is available in the Korean tourmaline ceramic barrel. It is light weighted and also available in Aluminum coated barrels.
For Details, Price and Coupon – CHECK AMAZON
Multiple heats setting options
This curling iron provides the possibility of multiple heat settings. It can reach the temperature up to 410F and has negative ion technology. The negative ion technology tends to reduce the impact of humidity in hair locks and decrease the damp look of the hair.
Equal heat all over
The Jose Eber Clipless curling iron provides equal heat throughout the iron. The clipless barrel designed with the latest Korean tourmaline ceramic technology provides perfect heat distribution and heats all of the hair strands at one time. The heat is not concentrated in any part of the hair. Due to this design, the hair is heated equally, and it is not damaged, burned or over dried. This method of curling allows the curls to provide a more natural look.
Flexible power cord
Usually, regular curling irons have a tangled cord. This curling iron comes with a flexible professional length 8-foot power cord. There is no need to worry about the extension cord in this iron. It also has a weighted handle for the safe resting position. It has a 360-degree revolving cord design with a hook.
A healthier option for hair
The Jose Eber Clipless curling iron provides healthier curls by curling from root to tip. Roots are the healthiest part of the hair and tips are the most vulnerable part of the hair. They are weak because they are further away from the natural oils that keep the hair strong and shiny. This curling iron starts from the root and works its way to the end.
Addition of heat restraining glove
Since the clipless curling iron concept is new to a lot of people, heat sometimes can get out of control. There have been cases of face and hand burn while using this new technology. For that reason, the Jose Eber Clipless curling iron comes with a heat restraining glove.
Individual summary review of Jose Eber 25mm Pro Series Clipless curling iron goes as follow:
Cons
Heat control issues
The heat control issues can be a major problem for many users. It needs a user with very careful attention to taking on this technique.
The difference in hair length
Since its barrel size mostly suits short to medium hair, often hair a bit longer than medium and too short may face difficulties to do it. Also in the case of short hair, small barreled iron like this one should be downward facing. If the users are not doing this, then the curling will not be as expected.
Degree of Curl tightening
The curls are tight in Jose Eber Clipless curling iron. The users have to ensure during curling that the curls are not becoming too tight. Otherwise, it will tangle and make the whole hairstyle messy.
Everything has its pros and cons. So is the Jose Eber 25mm Pro Series Clipless curling iron. But in the market, it is one of the best clipless curling irons because of its user-friendly features. The inclusion of the latest technologies has enhanced its features and crafted it as a more formidable beauty tool to be used at home. Despite some problems, this is one of the very few user-friendly and efficient clipless curling irons in the market. The problems that it has now will surely be eliminated in the future to increase its effectiveness.
Summary of Jose Eber 25mm Pro Series Clipless Curling Iron
Overall Rating by Author -

9.4/10
Final Verdict
So, what are you waiting for? Rush to the nearest store and get yourself one Jose Eber 25mm Pro Series Clipless curling iron. Ensure damage free hair with retro styles and beachy waves and enjoy elegant looks.
Comments Rating
( reviews)