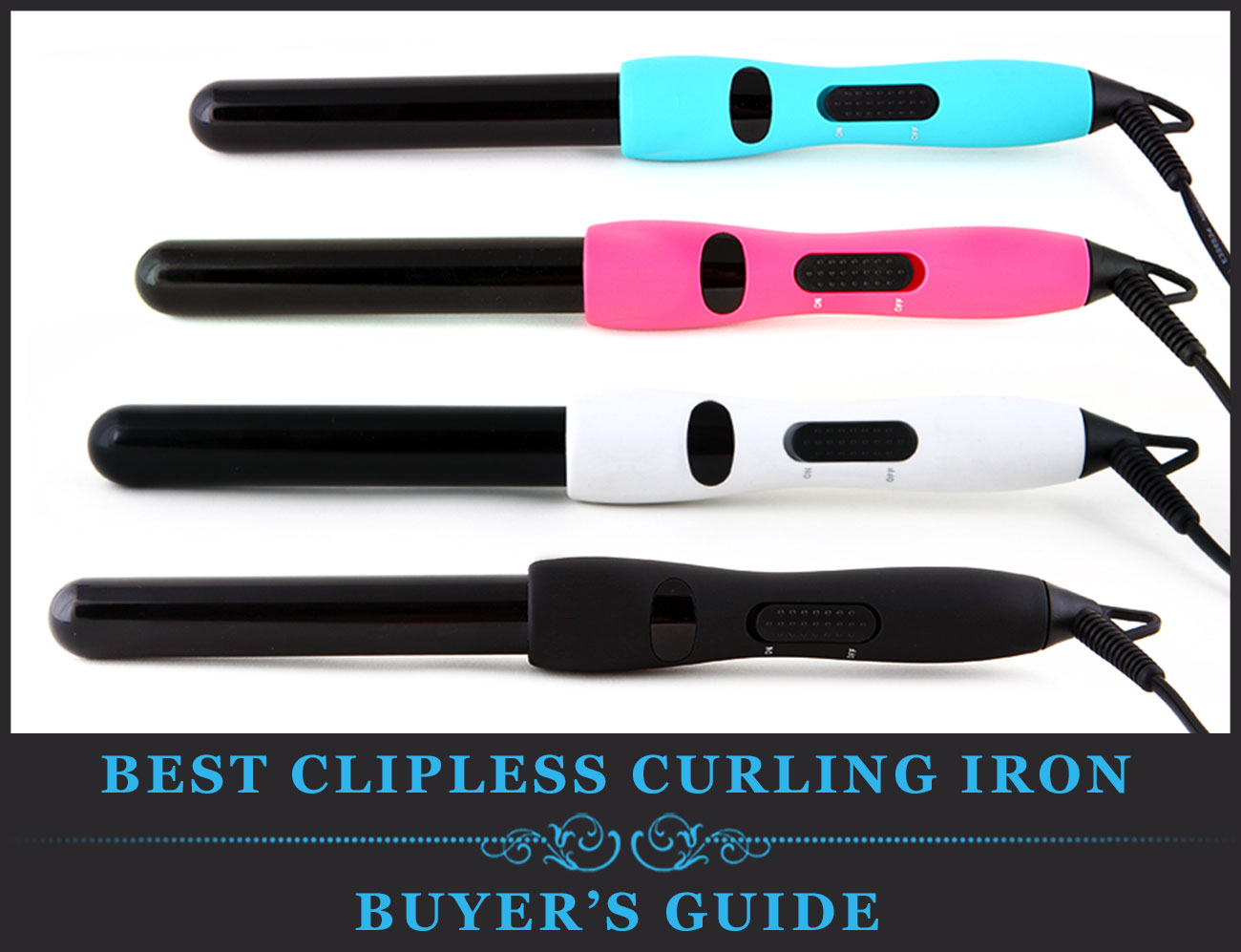 Curls give one an entirely singular look. Be that a beach silk smooth wave curl or twist. Therefore, owning a curling iron is a must to do it at home. It also saves money and time.
Curling irons create waves or curls in hair by using a variety of different techniques. A clipless curling iron is the one that has no clamp and is more convenient to use because the user wraps up the hair around the rod. Most clipless curling irons have 1 inch or less than an inch barrel. To avoid heat burn, clipless curling irons come with a glove.
Why Clipless curling iron
A clipless curling iron works differently than regular curling iron. Many users prefer clipless iron over regular curling iron because these do not cause damage to the hair as hair cannot be caught in clamps and broken by pulling clamped hair down the iron. Clamps sometimes leave crease lines on the hair, so the user does not have to worry about it in the case of clipless irons. Clamp-free irons often provide a higher temperature that leaves users with voluminous, long-lasting and tuck-free curls.
One thing that is to be remembered is that Clipless curling iron needs careful application. Otherwise, it may not bring the expected result for the user. But these are not hard to use. Just a little time and attention in understanding the instrument and its heat sensitivity will be enough. The heat aspects of clipless curling iron if not carefully handled, can cause burns in ears or face and also electrical malfunction.
Considerations while buying clipless curling irons
Several things require attention while purchasing clipless curling iron. Hair instruments should be purchased after considering the pros and cons. The following aspects of clipless curling irons should be considered before buying:
| Barrel size | Length of hair | Type of curls |
| --- | --- | --- |
| Bigger size barrel (bigger than 25 mm) | Longer hair | Loose curls |
| Smaller size barrel (smaller than 25 mm) | Shorter hair | Tight ringlets |
| Medium size barrel | | Soft curls |
Temperature
The iron should be on adjustable heat settings. Because everyone has different hair types (thick, fine, straight, curly) and certain kinds of hair can take the strain of more heat in comparison to others.
For example, if high heat curls thin/sensitive hair, then there is a good chance that it will hamper the hair and also can cause hair fall.
---
---
Barrel Material
The material of the barrel is crucial because it comes in direct contact with the hair. Most curling irons are told to be Titanium coated, but in this case, the users should be aware and meticulous because if the coating is not perfect, then it will wear off with time. There are two types of clipless curling irons widely available everywhere with the following types of barrels:
Titanium Barrel
Heats up quickly and uniformly
Consistent all over and less time-consuming
Ceramic/ Tourmaline Barrel
According to researchers, it creates negative ions that seal the cuticle of the hair
It provides even heat distribution that goes through the hair and preserves its natural oils and moisture.
It makes hair looking shinier
A healthy option for hair
Price range
If the curling iron is to be used regularly, then Titanium or Ceramic barreled irons are more suitable as they are comparatively healthy for hair.
Titanium Barrel: These curling irons fall into medium to high price range. They hold a medium position regarding durability.
Ceramic/ Tourmaline Barrel: These are expensive as well as durable. These clipless curling irons possess the latest technology to provide healthier options for hair.
Metal/ Chrome Barrel: These are a cheaper comparison to other curling irons. In this case, the barrel has metal or chrome or gold coating that eventually wears off with use and time.
Heat control:
Heat control is the key to using any hair curling iron. If the user can get a hold of that, then she is good to go.
Recommended models:
Jose Eber 25mm Pro Series Clipless curling iron with Giraffe Print
This one particular model Jose Eber 25mm Pro Series Clipless curling iron with Giraffe Print is quite useful. It is known to be:
Can create distinctively attractive curls and natural-looking static-free waves
It is light weighted and has Aluminum coated barrels
It is also available in latest Ceramic Technologies
Have multiple heats setting options and flexible power cord
Has quick heat up features and also temperature consistency
It does not wrinkle hair after curling
It also comes with a smooth revolving handle that is convenient to use
Jose Eber 25mm Pro Series Clipless curling iron is dual voltage
The curls stay as long as two days without even spraying
Jose Eber has less amount of friction and resistance during curling
It comes with a heat restraining glove
Jose Eber 25mm Pro Series Clipless curling iron with Giraffe Print – Check Current Prices On Amazon
Sultra the Bombshell
One of the most sought after clipless curling irons. Its distinctive features and the addition of the latest technology won over the heart of the users within very little time.
The Bombshell has innovative ThermaTru Ceramic Technologies
Sultra protects hair cuticles and locks in moisture to shields hair from excessive heat
Able to provide even and constant heat up to 3600 F without crease line
It mends hair by its Japanese Kyocera Technology
It is dual voltage and has an automatic shut off mechanism
It is lightweight and durable
The Bombshell is heat-resistance
The Bombshell saves lots of time in heating up
Comes with a heat resistant glove and iron pad for safety measures of users
Sultra the Bombshell – Check Current Prices On Amazon
To compare the above two clipless curling irons the essence of the whole discussion is- one provides nourishing treatments for hair alongside unique and natural curling (Jose Eber 25mm Pro Series Clipless curling iron with Giraffe Print) while the other provides latest technological support with heat consistency (Sultra the Bombshell).
For personal and professional use and a safe, reliable and affordable hair curling tool, any one of the above two will save the user money, effort and not to mention time.