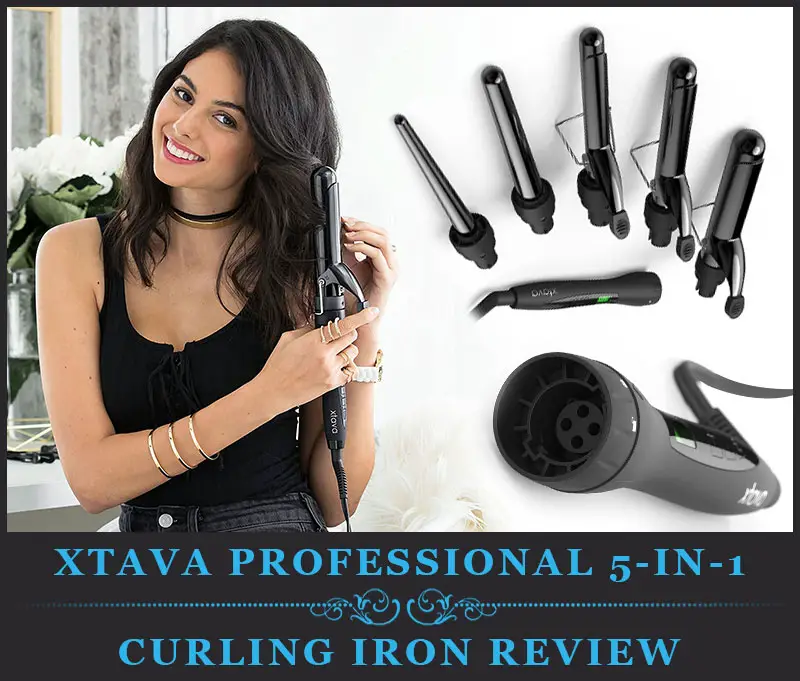 Every woman craves for good looking hair. Many have thin hair, and many have thick. You cannot decide on having thin or thick hair. It is an act of God. What you can do is to give eye-catching style in your hair. The answer to mind-blowing hairstyle is curling hair. Finding out the ideal match between your hairstyle and the curler is not a piece of cake. Numerous brands have flooded the market. You might get lost hankering after the perfect one. Set your mind at peace because I am here to help you. XTAVA Professional 5-in-1 Curling Iron is the curler which I cannot stop loving. I am going to show you the details below.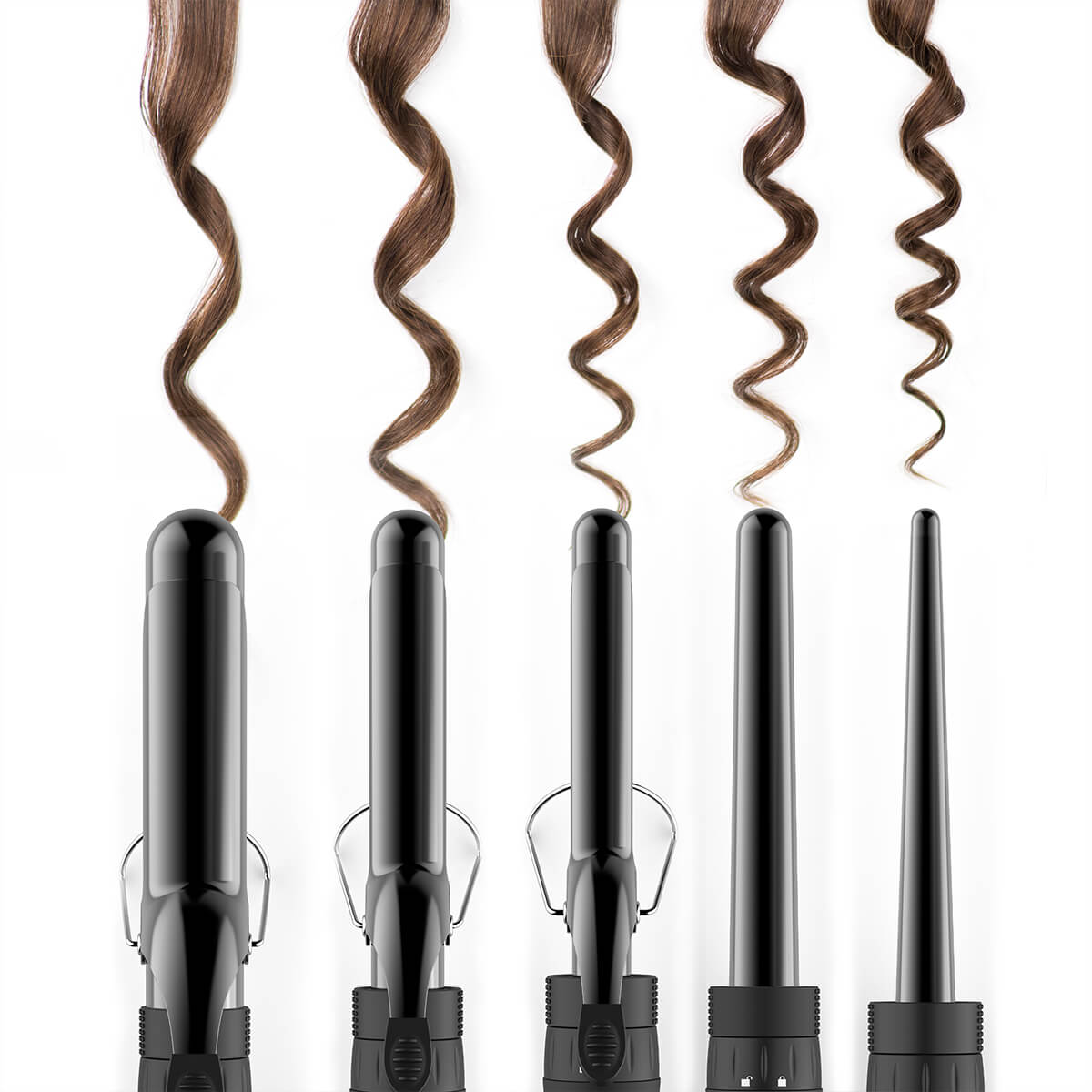 For Details, Price and Coupon – CHECK AMAZON
Advantages:
5 Interchangeable Ceramic Barrels:
There are different types of curls that you might already have come across. The curls range from beachy waves to tight curls. You need a different barrel size for various results. It is a bit difficult to buy different barrel size iron for different curls which surely cost you much. This product from XTAVA has five barrels of various sizes and shapes that you will get after purchasing one.
---
---
Three of them are curling iron, and two of them are wands. You can curl your hair from beachy curls to tight curls and every possible curl in between. Three barrels of cylindrical shape are .75", 1", and 1.25". Two conical barrels are of .3"-.75" and .7"-1". You might have a clear idea about how you can get a variety of curls with one product. The More interesting thing is that you can use this iron on very short, medium short, and even in long hair. The following table hair shows the summary of the result of this curler:
Barrel Shapes
Barrel Width
Result
Hair Size
Cylindrical
.75"
Classic curls
Very short to medium short
1"
Loose curls
Medium short
1.25"
Loose curls
Very short to medium short
Conical
.3"-.75"
Classic curls near to the scalp which gradually tends to kinky curls to the end
.7"-1"
Loose curls near to the scalp to classic curls to the end
Ceramic Tourmaline Technology
Ceramic Tourmaline technology is the best technology ever used in hair-curling products. I am going to talk about what ceramic and tourmaline are and what they do to the hair before talking about this technology. Ceramic is a combination of metal and oxygen resulted from the metal being heated approximately at 2000°F. This material is corrosion-resistant, highly slideable, and non-sticky. Tourmaline is a semi-precious gemstone and also known as crystal boron silicate mineral. It being heated discharges infrared negative ions Naturally. It can even discharge six times more negative ions. In ceramic tourmaline curling irons, tourmaline is coated on the ceramic plate after being crushed into a fine powder. Benefits of ceramic tourmaline curling irons are as follows:
Locks moisture to keep hair healthy
Heats up quickly
Reduces frizz
Provides long-lasting curls
Ensures even heat distribution
Produces six times more negative ions than neutralize positive ions
Helps to curl hair effortlessly
Prevents heat damage
Results in smooth and shiny hair
Ideal for all types of hair even damaged hair
Suitable for regular use
8′ CORD LENGTH
A long cord of curling irons is essential for comfortable curling experience. It allows users to move flexibly with the curler. You do not have to get yourself confined to the power outlets. This product has 8 feet long cord which will come in handy.
360° Swivel Cord
This curling iron has a long power cable that you might think about experiencing a cumbersome situation. It is so natural that long cord gets tangled so easily. It will not be the case for this product because this product has a 360° swivel cord. Swivel cord ensures that you can enjoy the maximum benefits from the long cable.
Universal Dual Voltage
In the USA, you will find 110 volts and 240 volts is used in Europe and the rest of the world. If you travel a lot around the world, it will be a problem for you to use curling irons which support single voltage. XTAVA Professional 5-in-1 Curling Iron can be used in every country because it has universal dual voltage.
410°F TEMPERATURE
Temperature is an inevitable factor for curling hair. Not all levels of temperature are going to suit every type of hair. You need to adjust the levels of heat according to the status of your hair. Thin hair requires a small degree of temperature. The high temperature is necessary for thick hair. High level of heat in light hair will damage. The low temperature in thick hair will do no good for curling. XTAVA Professional 5-in-1 Curling Iron is perfect for thick to coarse. It generates 410° F temperature which will be efficiently unruly curly hair.
[wpu_silo excerpt='true' links='10']
Disadvantages:
Single temperature
This product has only one heat settings thus it is clear that your choice is restricted. This 4100 F tool cannot be used on thin hair and damaged hair. It can only be tried in the thick to coarse hair.
No cool touch tip

It gets too hot in a very short time, but it does not have any cool touch tip. There is a high possibility that users might get their hands burnt.
Summary of XTAVA Professional 5-in-1 Curling Iron
Overall Rating by Author -

9.1/10
Final Verdict
The choice is yours because your hair is so precious that you cannot even think of buying cheap inferior quality tools for styling your hair.
Comments Rating
( reviews)