Short hair locks are vibrant, sexy and add a very care-free vibe to your overall outlook. But when it comes to styling them with versatile hairstyles, you might frown a bit because you have the perception that there are not so many hairdos for this hair length.
Well, you are wrong. When you have the perfect curling iron for short hair at your arm's length, then you can not only create different types of curls in your short manes but at the same time can also adorn them with some really amazing hairdos effortlessly.
Then again, the problem may arise if you don't have enough understanding about how to curl your short tresses perfectly with a curling iron, and keeping in mind about such a dilemma, we have explained below the steps you should follow in order to achieve the perfect curls easily.
Find Out Suitable Curling Iron Size for Short Hair
Curling irons come in various different barrel sizes to suit different lengths of hairs and the first step to creating some gorgeous curls in your short tresses is to find the right barrel size for them; for short hair (neck length, shoulder-length, Diana cut), we would recommend adopting a barrel that is 1 inch or less. The reason behind suggests these barrel sizes is because people with short tresses don't have enough hair length to wrap around a wider barrel at all.
You might try the INFINITI PRO BY CONAIR Nano Tourmaline Ceramic Curling Iron to create frizz-free, versatile curls in your short manes.
Know-how to Prepare Your Short Hair Before Curling
We consider the hair pepping stage as one of the crucial parts of the styling process because it makes sure that your precious manes are well protected from the heat you are going to apply and at the same time also provide a great base to start your curling with.
Shampoo & Condition Well
It's better to start with a fresh canvas with every style, especially when you intend to create curls. Dirt, debris and product build-up may result in unnecessary slip and flatness to your hair strands causing difficulty while curling them.
Use a volumizing shampoo and conditioner (such as this Moroccanoil Extra Volume Shampoo) to remove all the gunk from your hair and make them silky, smooth with a natural bounce.
Dry Them Properly
Don't you ever think of curling your wet hair, NEVER!
Creating curls in wet hair would lead to severe hair burns and breakage.
As you have short manes, drying them with a microfiber towel is the best option because soaks up almost 95% of the water from your wet manes so that you have to use less heat (from the hairdryer) to dry them completely.
We would suggest this DuraComfort Essentials Super Absorbent Anti-Frizz Microfiber Hair Towel for its excellent absorption ability.
Don't Forget Heat Protectant
After drying your short manes completely, spritz on some heat protectant (like the HSI PROFESSIONAL Argan Oil Heat Protector) to make sure your tresses are not only well protected from the heat you are going to apply (for the curling) but also to provide an excellent base to start with.
Step by Step Guideline
Once you are done with preparing your hair strands perfectly, now, it's time to move on to the actual process of creating flawless curls in your short manes effortlessly.
Step 1
Start off by brushing your hair thoroughly so that there are no tangles and knots in your hair. Then with a rat tail comb, section off your manes horizontally so that you have a part on the top and one at the bottom. Tie the upper part with a rubber band (or an alligator band if your manes are too short) for a secure hold.
Step 2
Begin working with the bottom part of your; section them into 4-5 parts and secure each section with a Darby or Duckbill Clip to avoid any disturbance.
Even though your hair locks are short, we are still including this step as it makes curling your hair easier and faster than when you don't section them off.
Step 3
Now take a section of your hair and wrap it around the hot barrel of the curling iron. Hold not more than 20 seconds before sliding down the tool swiftly to produce precise, smooth curls.
When you are curling the side hairs, remember to curl them away from the face to make sure that you don't burn your face from the high heat of the barrel.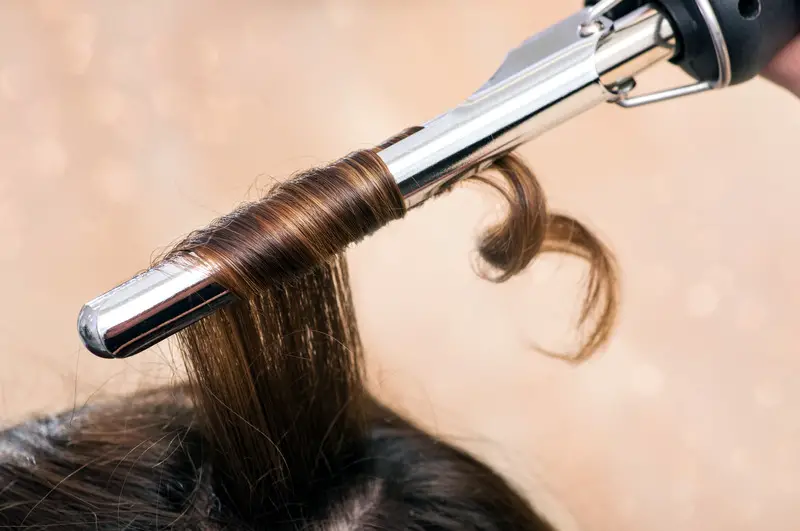 Additionally, we would like to remind you to not wrap your hair strands with the clamp of the iron closed; first, open the clamp and then wrap your hair for more effective and impeccable results.
Step 4
Once you are done curling the bottom part of your short tresses completely, now it's time to create lustrous curls in the top section; repeat the above method to curl the upper part also to adorn your short manes with sexy uniform curls that lift up your look by several notches.
Step 5
Now, as all your hair strands are curled perfectly, run your fingers through the tresses to interconnect between the curls so that they don't look out of place.
Finish off by spraying a holding spray (like this L'Oreal Paris Elnett Satin Extra Strong Hold Hairspray) to ensure that your freshly created curls remain intact in place for hours to come.
---
---