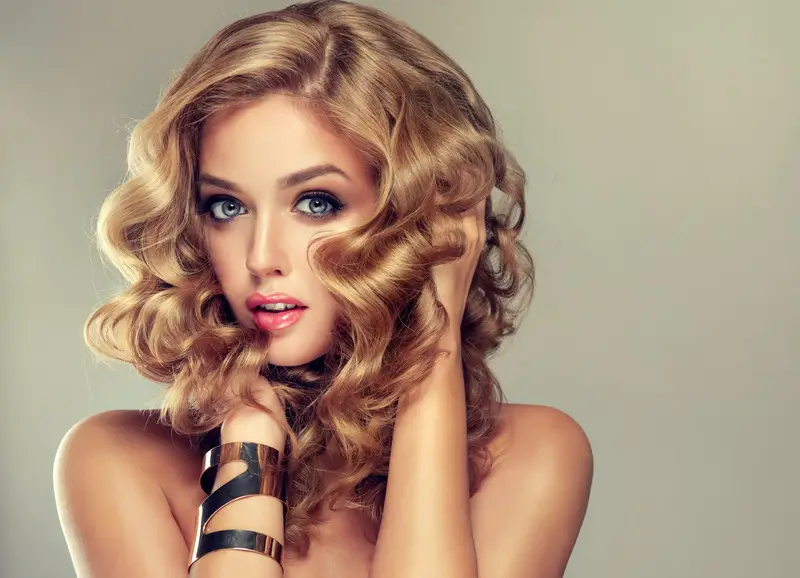 Explore the world of natural curls with ½ or 0.50-inch curling iron. It is the most suitable curling iron for every hair length because it is not small nor big. Natural curls are not the same all over the head. Thus, this is the staple curling iron for the curly-haired people when you just want to tame a few and don't want to do the complete head.
It can create retro ringlets, sensuous spiral to springy curls depending on how thin or thick sections you take. However, it doesn't volumize your hair so blow dry first if you need to add volume and then do the curls. Run your fingers through the curls. It will loosen up the curls into more natural waves and add more body. Can't get tight kinky corkscrew curls with this barrel but can fashion well-defined spirals.
What it does?
It can create many styles with a different length of hair.
It can create bouncy curls for short to shoulder length hair.
Well-defined spirals on medium to long hair.
Will create spirals of different size on longer hair.
It doesn't matter if you curl occasionally or regularly, this is the perfect barrel size for every length and type of hair. The thin or thicker section will give you a variety of natural curls too well-defined waves.
Name
Hot Tools Pro Artist 24K Gold Curling Iron | Long Lasting, Defined Curls (1/2 in)
INFINITIPRO BY CONAIR Tourmaline 3/4-Inch Ceramic Curling Iron
Conair Instant Heat 1/2-Inch Curling Iron
Hair type
Straight, silky, fine/thin hair
Straight to wavy, normal, medium (not too thick nor thin) hair
Wavy to curly, dry, thick/coarse hair
Name
Hot Tools Pro Artist 24K Gold Curling Iron | Long Lasting, Defined Curls (1/2 in)
Hair type
Straight, silky, fine/thin hair
Name
INFINITIPRO BY CONAIR Tourmaline 3/4-Inch Ceramic Curling Iron
Hair type
Straight to wavy, normal, medium (not too thick nor thin) hair
Our Top Picks
Best for: Straight, silky, fine/thin hair
Features
Patented Pulse Technology™ for fluctuation free non-stop heat and ensures the best result.
24k gold – plated smooth barrel for shiny and glossy curls.
Due to the extra sleek surface of the barrel, hair doesn't get torn by sticking or snagging.
85 watts for fast heat up to 430°F or (220°C).
Variable heat settings with built-in rheostat control up to 430°F.
Saves the last heat setting in its memory, so you don't have to remember.
Soft-Grip™ textured handle.
Powerful spring clamp, as well as two replacement spring clamps, are included.
Heavy-duty long-life heating element.
Foldaway safety stand.
Extra-long cool tip to avoid burning fingertips.
8-ft. heavy-duty tangle-proof swivel cord for convenience.
Solid-state circuitry ensuring safety.
Weight: 1.5 pounds approximately, lightweight.
1-year limited manufacturer's warranty.
This is the best ½ inch curling iron for straight silky, fine/thin hair. Those who complain that curls don't last on their poker-straight hair should try this one out! It has a professional power to give you long-lasting lively curls but gently, without damaging your delicate tresses. Only a specialized tool such as this can be trusted for damage-free styling on this type of hair.
The 24k gold barrel heats up right away and evenly which eliminates hair damaging hotspots. Patented pulse technology prevents heat fluctuation for smooth and even salon standard uniform curls. Always check the instructions for your particular hair type in the manual before you starting curling and using the recommended heat.
It's safe to start with the lowest setting and then gradually go up. Although it can go up to 430°F, but for straight silky fine/thin hair 200°F is good enough. Silky fine hairs are too delicate so do practice caution. For the best result always curl away from the face and close to roots. The multi-heat settings let you control the heat for your particular needs.
Spring clamps help your silky hair from slipping away while long tangle-free swivel cord, extra-long cool tip, and comfortable grip help you handle the curling iron better. This excellent curling iron is available in the following sizes to cater to all your styling needs.
Best for: Straight to wavy, normal, medium (not too thick nor thin) hair
Features
24-hour curl control
Tourmaline Ceramic technology for less damage and fast results
395°F/202°C highest heat setting for long-lasting curls
Uniform heat recovery system maintains ultra-high

temperature

levels
The protective heat shield is included for risk-free storage
30-Second fast heat-up
LED temperature control
This hair type is the most perfect for different styles. But over-styling may damage your lovely locks. To form lasting curls medium hair needs more heat, but repetitive exposure to harsh heat will destroy its luster and soon your hair will be dull, damaged and lifeless. Thus, to avoid dry and frizzy hair, we suggest the Infiniti Pro by Conair Nano Tourmaline Ceramic ½-Inch curling Iron.
In ordinary curling iron, heat penetrates the hair shaft from outside reaching slowly to the center. For this reason, the surface of the hair takes the maximum heat exposure for longer and gets damaged. Ceramic releases far-infrared heat starting at the center working on hair from inside out. Thus, the natural moisture of the hair remains unharmed and tourmaline emits negative ions to lock the hair cuticle to make your hair softer, frizz-free and shinier. It will give you lasting voluminous curls while keeping your hair healthy and hydrated.
Best for: Wavy to curly, dry, thick/coarse hair
Features
25 temperature controls for all hair types
Instant heat 60-second heat-up
Electronic touchpad controls switches
Auto shutoff
Turbo Boost feature increases barrel temperature
Non-slip grip handle
9.6 ounces, lightweight
2 years limited warranty
Conair Instant Heat Curling Iron -1/2″ is the best 1/2 inch curling iron for wavy to curly, dry, thick/coarse hair. You need salon standard high heat which is powerful enough to give you longer lasting bouncy curls. For this reason, we have selected this curling iron for your lovely locks.
This curling iron has the power and precision of a standard salon tool. It even has turbo boost which makes your barrel go one extra mile than the rest of the tools out there. It delivers bouncy lasting curls. It is also economical but doesn't compromise with the quality.
Frequently Asked Questions
Q1. How to curl hair with 1/2 inch curling iron?
If you want super tight to tight curls, you should use a ½" curling iron. Make sections of the hair and hold the iron horizontally or vertically, depending on how you want your hair to fall. Wrap the lock around the wand tightly and hold for a few seconds. Slowly pull out the iron to achieve small tight curls. To make the curls looser, run a wide-toothed comb or your fingers through the hair. 
Q2. Any curling irons with barrels thinner than 0.5 inches?
inkint Electric Curling Wand measure 9mm in barrel size and provide the tiniest and tightest of wring curls. This is the smallest barrel size available. KIPOZI is also famous for its 3/10" curling wand for small and defined curls.
Last update on 2022-09-10 / Affiliate links / Images from Amazon Product Advertising API
---
---