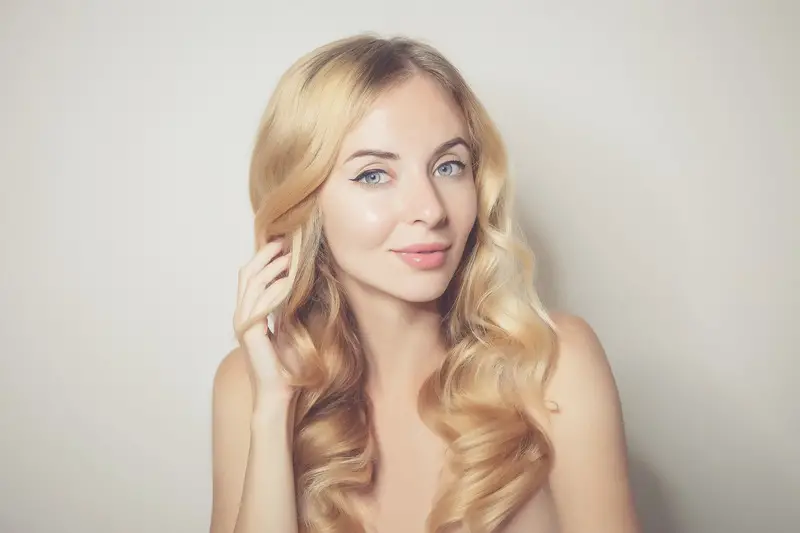 It is a relatively big barrel but it can create bouncy voluminous curls for medium to long hair. Run your finger through the curls to loosen up if you want to add more body. If you take thin sections, then you can do spiral waves, but you can't get tight kinky corkscrew curls with this barrel.
It can create bouncy voluminous curls for medium hair
Spiral waves can be achieved by curling thin sections
Name
Hot Tools Pro Artist 24K Gold Curling Iron | Long Lasting, Defined Curls (1-1/2 in)
Hot Tools Professional Ceramic Titanium Professional Curling Iron, 1-1/2"
INFINITIPRO BY CONAIR Tourmaline 1 1/2-Inch Ceramic Curling Iron, 1 ½ inch barrel produces soft waves – for use on medium and long hair
Hair type
Straight, silky, fine/thin hair
Straight to wavy, normal, medium (not too thick nor thin) hair
Thick, coarse, dry and curly hair
Name
Hot Tools Pro Artist 24K Gold Curling Iron | Long Lasting, Defined Curls (1-1/2 in)
Hair type
Straight, silky, fine/thin hair
Name
Hot Tools Professional Ceramic Titanium Professional Curling Iron, 1-1/2"
Hair type
Straight to wavy, normal, medium (not too thick nor thin) hair

1 and ½ inch curling iron is best suited for extra-long to past shoulder medium hair length. You can get voluminous curls to loose waves or use it to add body to your poker-straight hair. Don't expect tight corkscrew springy curls with this barrel size.
Not useful or appropriate for short-haired people. It will not give them any benefit other than volume. However, on short hair, too much volume may look odd and cheap.
Our Top Picks
Best for: Straight, silky, fine/thin hair
Features
Patented Pulse Technology™ for 'Gets Hot. Stays Hot' performance
24K gold – plated smooth barrel for shiny and glossy curls
Due to the extra sleek surface of the barrel, hair doesn't get torn by sticking or snagging
85 watts for fast heat up to 430°F or (220°C)
Variable heat settings with built-in rheostat control up to 430°F
Saves the last heat setting in its memory
Soft-Grip™ textured handle
Powerful spring clamp, as well as two replacement spring, clamps included
A heavy-duty long-life heating element
Foldaway safety stand
Extra-long cool tip to avoid burning fingertips
8-ft. heavy-duty tangle-proof swivel cord for convenience
Solid-state circuitry ensuring safety
Weight: 1.5 pounds approx.
1-year limited manufacturer's warranty
Straight, silky, fine/thin hair type doesn't hold lasting curls without heat, but if you are not careful, it may get damaged due to the overexposure to high temperature. Thus, for this hair type we recommend Hot Tools Professional 1102 Curling Iron with Multi-Heat Control; Big Bumper 1-1/2″ .
The 24k gold barrel heats up evenly eliminating hot spots and makes the curls lustrous and shiny. Start curling at the roots as firmly as possible for long-lasting curls and spray the curls with setting spray too. This curling iron gets hot in 60 seconds and stays hot due to its patented technology. The multi-heat settings let you control the heat for your particular needs.
Always check the manual for direction about your particular hair type before you start curling and use the recommended heat. It's safe to start with the lowest setting and then gradually go up but for straight silky fine/thin hair should not go more than 200°F. Silky fine hairs are easily damaged so you need to be extra careful.
If there's no instruction, you may call the helpline of the curling iron. Spring clamps don't let your silky hair slip away while long tangle-free swivel cord, extra-long cool tip, and comfortable grip help you handle the curling iron better. This excellent curling iron is available in 8 different sizes to cater to all your styling needs.
Best for: Straight to wavy, normal, medium (not too thick nor thin) hair

Features
Advanced ceramic and tourmaline combo barrel: Ceramic generates far-infrared heat, protecting natural moisture of the hair from drying and Tourmaline emits negative ions making hair shinier and smoother
Patented Pulse Technology for 'gets hot & stays hot' performance, Extra Hold-Constant high heat means all curls are formed at the same temperature, providing long-lasting, consistent hold
Rheostat heat control up to 430°F to get lasting curls
Comfortable soft-grip handles with Extra-long cool tip for efficient handling
8ft swivel cord for tangle-free operation for convenience
Includes two extra easy-to-replace springs just in case
Weight: not too heavy, 1.5 pounds approx.
Manufacturer's warranty can be requested from customer service
Regular straight to wavy medium hair is neither thick nor thin. For this medium thickness, it is the perfect hair type to try out different styles. However, it doesn't mean you can be careless. To form lasting curls medium hair needs more heat, but repeated exposure to harsh heat will make your hair dull and lifeless. Thus, to save your hair from becoming dry, rough and frizzy, we suggest the Hot Tools Professional 2102 Ceramic Titanium Professional Curling Iron, 1-1/2."
Other hair curling iron starts heating the hair from outside slowly reaching to the center causing dryness and roughness. Ceramic releases far-infrared heat starting at the center working on hair from inside out preserving the natural moisture of the hair while Tourmaline emits negative ions to lock the hair cuticle to make your hair smoother and shinier. It will give you lasting voluminous curls while keeping your hair healthy and hydrated.
Best for: Thick, coarse, dry and curly hair
Features
24-hour curl control, even in humidity
Nanotechnology eliminates hot spots and reduces static and frizz for healthy hair
Extra-smooth tourmaline ceramic surface for durable and superior performance ensuring sleek and shiny curls
400°F highest heat setting for longer-lasting curls and waves
The Uniform heat recovery maintains a constant temperature at ultra-high heat levels
Five precision heat settings to have better control
Cool tip to conveniently handle the curling iron without burning your fingertips
Auto shut off after 1 hour
Has protective heat shield for safe and easy storage
Weight: 1.5 pounds approximately, not too heavy
Warranty: Limited five years warranty
This one is the best 1 and ½ inch curling iron for thick coarse and curly hair. To control this type of hair you need some powerful tool but which is gentle at the same time. For this reason, we have selected this Nano Tourmaline Ceramic 1-1/2-Inch curling iron by Conair.
The ceramic tourmaline combination eliminates frustrating frizz creating shiny, glossy curls without damaging your hair. It is hot in just 30 seconds, heats up evenly reducing hot spot, and the constant heat recovery maintains an even temperature. It also has 5-temperature heat setting reaching up to 400°F/205°C approximately. It comes with 5 years of warranty which indicates its extra-long life.
Frequently Asked Questions
Q: Should I get a 1 inch or 1.5-inch curling iron?
Undecided if you need a 1 inch or a 1.5-inch curling iron?  It's simple, the smaller the curling iron, the more waves it makes.  
The 1-inch barrel is quite versatile and can be used to create big and volumized medium to long hair. This is great especially made to achieve those big, loose curls that are great for your everyday wear or even those special occasions where you need to look extra beautiful.  On the other hand, The 1.5-inch barrel gives you curls that will last longer. This works for coarse hair too. Between the two, the 1.5 curling iron saves you more time and effort and you will still achieve those long-lasting curls you are going for. 
Q: 

How to curl hair with 1 1/2 inch curling iron?
With the 1 ½ inch barrel, more loose curls and defined spiral waves can be achieved. It's all about sectioning the hair. Of course, the results would vary if you have thin silky hair, or thicker, fuller hair. To get those loose waves, get larger sections of hair and let it stay on the barrel depending on how thick or thin your hair is. For more defined and voluminous hair, section them into smaller groups.
Q: 

What is a 1 1/2 inch curling iron good for?
This size of the barrel is great for loose curls in medium to extra-long hair. With the variations of materials of the barrel, it's great for both thin, silky hair, and for thicker, and fuller hair. The end result would differ depending on how you want to use the barrels and how you section your hair. The variety of materials available for the curling iron would guarantee that thin and thick hairs are well taken care of, even with the frequent styling.
Q:

How to curl long hair with 1 1/2 inch curling iron
To get luscious loose curls for long hair, set the iron to medium-high heat and section. Section the hair into larger groups if you want to achieve looser curls, then after curling run your fingers to your hair to add body after curling. Section hair into smaller segments to achieve a more spiral finish to your curls and give volume. 
Q:

How to get boho waves with 1-1/2 inch curling iron?
Boho wave has always been in style, and with the 1 ½ inch curler, staying on trend is no sweat. Boho waves are loose waves that add texture and a bit of volume to the hair. Apply mousse first to hold the texture that will be added to hair, then roughly blow dry hair. Make big and small sections when curling the hair to get different textures for that relaxed boho style, then run over the hair with your fingers to finish off the look.
Last update on 2023-11-09 / Affiliate links / Images from Amazon Product Advertising API
---
---