Looking for the best travel curling iron?
It is almost impossible to maintain a hairstyle naturally when you are on a travel, camping, adventure trip or outside for project work! If the location has an electrical problem, it can be worse!
However, if you carry a light, portable, manageable, usable travel-friendly butane curling iron for international travel, it can be possible. The travel-friendly butane technology supported curling iron specifically is designed for travelers who want a quick hairstyle. So it has to have some precise criteria to be an efficient and better curling iron while traveling.
Name
Conair Travel Curling Iron with Storage, 1- Inch Ceramic Curling Iron in Gold by Travel Smart
Conair The Cordless Collection ~ 3/4-inch Curling Iron
Features to look for in the best travel curling iron
Portable
Travel-friendly curling irons must be lightweight and small compared to other general curling irons. People prefer to purchase mini curling irons to use them when  traveling so that they don't take extra space in the luggage! A mini curling iron looks identical to a conventional curling iron, except the barrel and handle are smaller than normal.
Light
For the best travel size curling iron, the barrel size is typically 5/8 or 3/4 inches, maximum 1 inch. If you have large or thick hair, try to use 1". If you have short hair, go for less than 1". It will help to carry and manage curling iron while traveling.
The barrel material should get perfect, durable, and damage-free hair and have fastest and high heat transfer for immediate and superior results. Ceramic is the perfect material for a travel-friendly curling iron. User should check the handle and the plate material of curling iron
Usable
The biggest barrier of travel-friendly curling iron is a voltage meter for plugging. It is particularly the case when you're traveling overseas and need to bring along plug and voltage adapters to use styling appliances. The products that have a dual voltage of standard 120V used in the US and 240V for operation in foreign countries are more preferable. Dual voltage curling iron can be used without a voltage adapter though users will need US to EU plug adapter. Countries that work without a voltage adapter are Germany, The Netherlands, France, Austria, Italy, and Spain.
Some Common Adapter Plug Types

The chart below lists is the appropriate adapter plug models for the most familiar travel destinations.
| Common Destinations | Outlet Type |
| --- | --- |
| Japan, Taiwan, Central America, Caribbean, South America | A,B |
| Europe, Middle East, Israel, some Asian countries, some African countries | C,E,F |
| United Kingdom, Ireland, Hong Kong, Singapore, Malaysia, some African countries | G |
| China, Australia, New Zealand, Fiji | I |
Cordless curling irons solve the plug problem entirely, as they don't rely on electricity for power.
Most cordless curling irons run on butane cartridges and get hot when this pressurized liquid safely combusts inside of the appliance. While you don't have to recharge batteries to continue using a butane-powered cordless curling iron, it is necessary to replace the cartridges regularly.
Temperature
The temperature should be similar to a usual curling iron. It must have many heats setting options with lowest heat (200°F) and the highest heat (450°F).
Our Best Travel Curling Irons
This is our best travel size curling iron for international travel. The 1-inch ceramic-coated barrel heats evenly and quickly (30 seconds) to prevent damaging hot spots. It reduces frizz for silky, shiny results. This curling iron has a heat shield for safe and secure storage with automatic shut off. Most importantly it is eligible for worldwide dual voltage.
Features
Lightweight, travel-friendly
Ceramic coated barrel distributes even heats for smoother curls
Heats up within 30 seconds
Worldwide dual voltage supported
If you want to use this product worldwide, you need an adapter. We suggest you use the Ceptics GP-5PK International Travel Worldwide Plug Adapter Set.
This is our 2nd best travel curling iron. Without any plug or battery, you can use this product anywhere. It is made with ceramic technology for smooth, sleek styling and high-shine finish. It goes up to 360°F ultra-high heat performance. It is cordless for easy travel. The replaceable Thermacell butane gas cartridge lasts for months of use. It's compact: The stylish neat and portable size makes it easy to store away or pack up for travel.
Tips
Please keep your Travel-friendly Curling Iron safely especially cordless. If it turns on, an auto can cause a harmful accident.
Carry your small and light curling iron in the bag that can easily find.
As you are traveling, your hair will be dirtier. So Hair must washout with a deep-clean shampoo that will give a chunky look. Then conditioning hair only ends not in the roots and uses it half. Conditioner can drag down your hair, which can make curls drop out of it.
Blow-dry hair upside down with your hands until hair is completely dry. Do not curl hair when it is wet.
A mousse or curling cream creates body and helps tired hair to hold curls.
FAQs on curling iron for international travel
1. Can curling irons go through airport security?
According to the TSA, curling irons are only allowed in hand luggage and not in checked luggage. But they require a safety cover so as to prevent accidental activation. If it is a battery-operated curler, you should remove the batteries and put them in the check-in baggage. 
2. What to look for in a travel curling iron?
If you need to travel with your curling iron, you should look for one which is lightweight and travel-friendly. It should facilitate dual-voltage so you can carry it to any place in the world. A cordless one could also be less cumbersome to carry. Try one with a universal 1" barrel so you don't have to carry too many accessories. 
3. Can you use your curling iron in Spain and other countries in Europe?
It depends on the make of the curling iron. In case it is the dual voltage you need not carry a power adapter. If the curling iron runs on 230volts of power it is a compatible appliance to use in Spain. However, for other European countries, you might need to check the specification if it is 110-240v it means the multi worldwide voltage. 
Wrap Up on best travel curling iron
Pick up the best travel size curling iron for international travel according to your needs. Compare qualities according to travel-friendly criteria and match them with the products and your needs. Most matched quality of the product will be your best travel curling iron.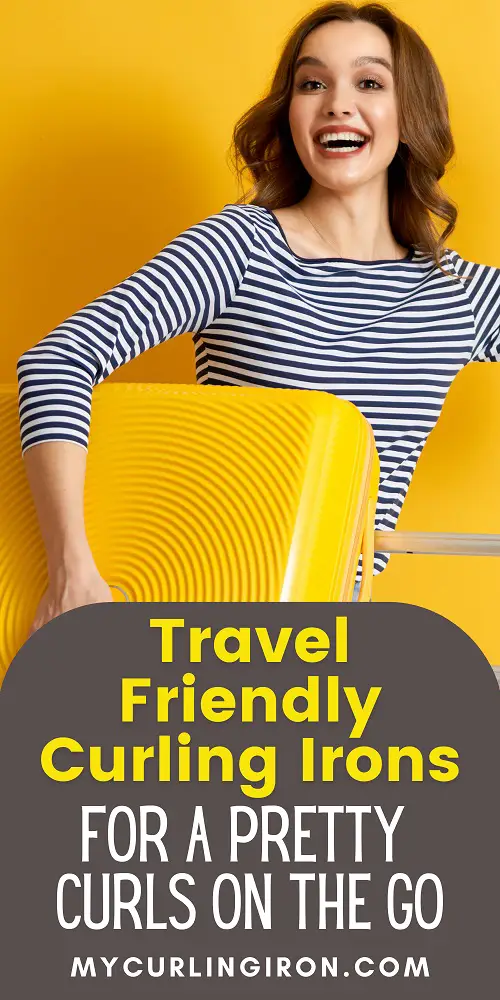 Last update on 2023-09-14 / Affiliate links / Images from Amazon Product Advertising API
---
---