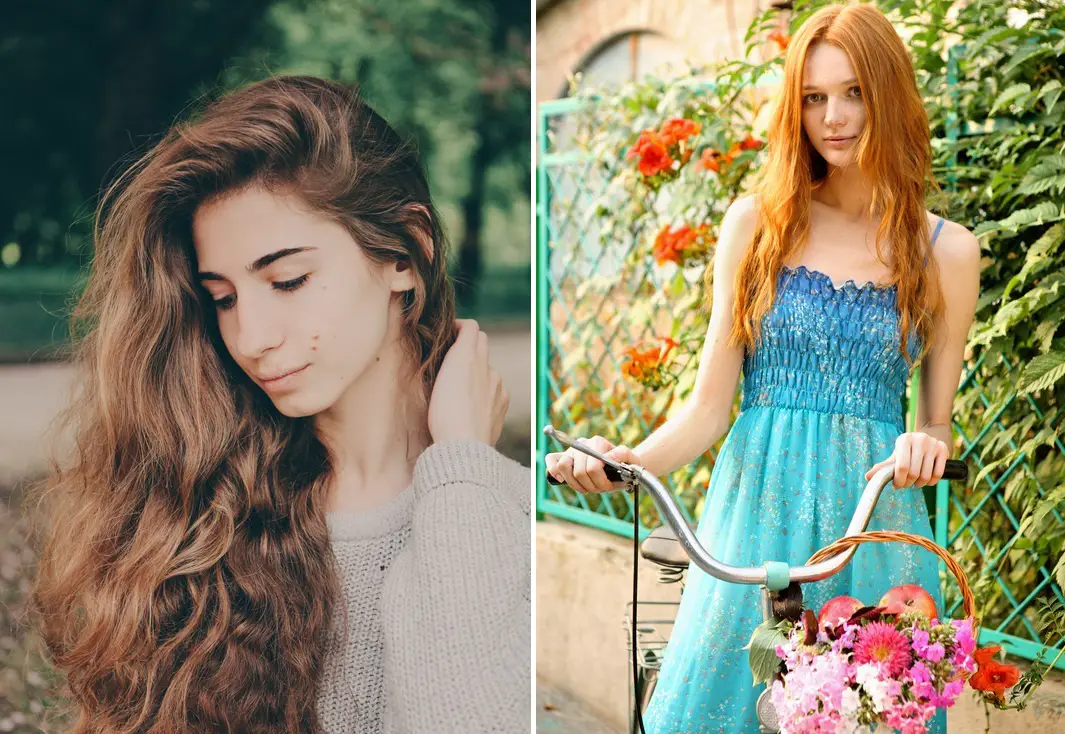 OMG! Don't freak out just because you have combination hair (such as straight at the root but wavy at the bottom and so forth)! There's nothing to be alarmed about it. If you have good combination such as the straight but thick normal hair you might have the last laugh!
The celebrities won't confess, but most of them have combination hair due to stress, over styling and irregular lifestyle. I have shared their secret way of controlling the mood swings of your hair type so bear with me, please.
There are endless possibilities for you too when it comes to hairstyling. Most people fall into two groups that are nearer to each other that is, in between Straight to wavy or wavy to curly vice versa. People may have combination hair by birth or at times, damaged hair due to styling or poor lifestyle can become combination hair. Some people may have combination hair due to seasonal weather change too that is too dry in the winter or too oily in the summer etc.
Our Top Pick for Combination Hair
Conair Instant Heat Curling Iron
Combination hair can't withstand strong heat or tolerate strong products thus you need a dependable tool that does the job as gently as possible. We have selected The Conair Instant Heat curling iron because it is strong and gentle at the same time.
Conair claims that it is suitable for all hair types thus whatever combination of hair you may have; it should give you gorgeous bouncy curls. It gets hot in just about 60 seconds and has 25 heat settings so you can accurately keep the temperature under control. The chrome barrel leaves your curl glossy and frizz-free. Try it and you will surely love the style it creates without frying your locks.
Specific barrel size and style chart for Combination Hair
This following style chart is exclusively made for combination hair. If this is not your hair type, please don't follow this
Different hair lengths such as Short, Medium and Long Hair demand different curling irons pull off the same hairstyle. So do follow the table according to your hair length to save time and avoid disappointments. People with shorter hair should use lower barrels or big barrels with a smaller section for evident hairstyles
For an unswerving salon polished look, you have to section your hair as identically as possible. The size of the hair sections should depend on the length of your hair, the barrel size and the style you are trying to create.
Rules are meant to be broken but usually, the bigger the barrel is, the thinner the section of hair should be, especially for some evident effects on short hair. However, in the end, it's all about how you want to look so feel free to make thinner or wider section if you think it will suit you better. If you are still confused about how big or small the section of hair should be taken to create

a particular

style, please check the style and measurement chart below where we have given a particular width of the section of hair for

traditional

styles in the following manner.

(big) section = the width of the section should be 2" approx."
(Medium) section = 1.5" approx.
(Normal) section = 1" Inch
(Small) Section = ¾" Inch, Approx. bigger than half but smaller than 1"
(Thin) section = ½" Inch approx
Click on your hairstyle below to open the style and measurement style:
How to Style Your Hair
Are you facing these problems daily?
Oily roots but dry, frizzy lower end: condition only the bottom part and use shampoo on the top or vice versa
Split ends and Breakage: Excessive dry and weak ends usually become split and then breaks. Cut it off, At least, cut off the already split portions please and do deep conditioning once a month. It is the hair's way of sending SOS for nourishment
Hair fall: Too oily or overly dry scalp will eventually lead to hair fall. Hair fall is a sign of stress, poor diet, unhealthy lifestyle, drastic weather condition, extreme heat, and harsh chemical styling, so please be careful before and don't be sorry later. Be gentle with your sensitive hair, to begin with. A balanced diet and healthy lifestyle is the only key to 

great lifelong

hair.
Based on this, this is the best way to style your hair:
1. The products: Shampoo and conditioner should be bought separately. Also, purchase a shampoo that says suitable for all hair types. It's best to buy shampoo and conditioner according to the roots. If your scalp and roots are too oily or dry, buy shampoo for that and use it only on top of the head leaving the middle to end part alone. Wash the rest of the hair with suitable for all hair type shampoo.
2. Styling tools: Always go with quality styling tools. Your hair and you deserve the best quality product so don't compromise with that! You need a curling iron that is dependable for gentle damage-free styling. The best curling iron that will give you mind-blowing great curly hairstyles without harming your sensitive hair is given below.
Tips and tricks
As you have combination hair, you need to buy shampoo according to your roots and conditioner depending on the bottom portion of your hair. Also, wash your hair roots and scalp with shampoo with conditioner.
Use heat protector serum but leave the roots and scalp
Do not use hairspray on hair sections before rolling it on the curler. Aerosol sprays should never be exposed to heat so practice caution. It may make your hair stick to the surface of the barrel and snag too. It may also permanently damage the outer coating of your curling iron so imagine the damage it will do to your hair!
Gather the curled section and bobby pin it to cool down. Thick and coarse hair are bulky so if you let the hot curl drop right just after curling it may become flat due to weight
When your complete head is done and cooled down. Gently shake your head a few times and position the curls as you wish. Once you are satisfied, use hair spray. If you use hair spray instantly after curling the hair, your curls may look stiff and unnatural. Although style such as vintage curls and retro waves often demand stiffness so if those are the look you want then you may use hair spray immediately after curling. After all, it's all about how you want to look in the end
While using bigger barrels make thinner sections for spiral and when curling with smaller barrels make hair section bigger for fuller looks
---
---