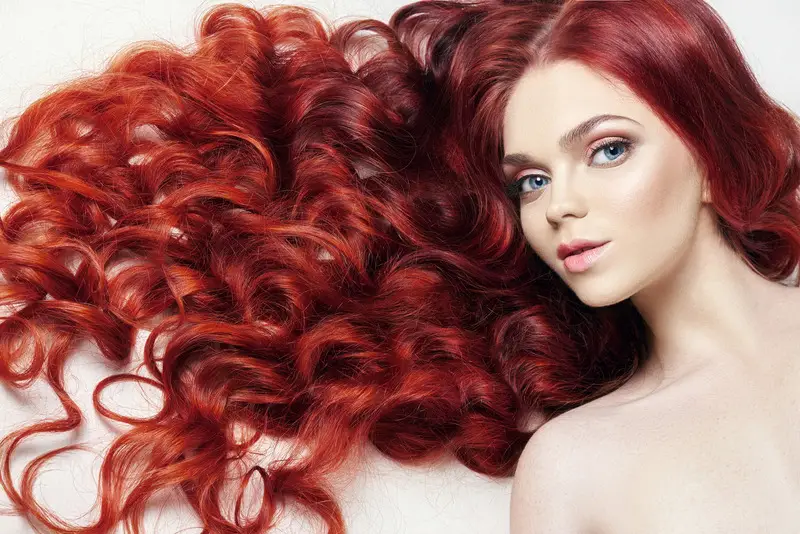 In this article, we have discussed some of the best curling irons for short and long lengths thick hairs and how to choose them based on their material, technology, the types of curls and waves they create and most importantly their barrel size and shapes which acts as a distinguishing feature. Following this writing as a guide, you would be able to find the best curling iron for your thick tresses which won't disappoint you with its curling results.
Quick overview
Ensures professional grade styling
The Nano titanium barrel of this curling iron gets super-hot instantly using a Turbo Heat button that helps to curl thick tresses easily and cuts down styling time remarkably too. The infrared energy also contributes in the quick yet long-lasting curling process while protecting your thick locks from getting damaged from a high amount of heat.
Aside from its 3/4 inch barrel size, this curling iron tool is also available in several other sizes to serve every potential customer with thick hair locks.
Provides long-lasting curls
The gold barrel of this curler gains extremely hot temperatures with the help of a Pulse technology that spreads heat evenly to curl your short thick hairs in the shortest amount of time. The Pulse technology also ensures that the hair locks don't suffer any burn or hot spots due to the high amount of heat transferred to them. Moreover, the Soft Touch handle, the Touch Guard™ protector and the Foldaway safety stand make this curling iron super safe as well as extremely user-friendly.
Available in several different sizes, this curling tool promises professional quality hairstyles.
Heats Up Instantly For Quick Styling
This Nano Titanium Spring Curling Iron comes in 2 "more than 1-inch" barrel sizes that are perfect to create different types of textured curls and waves in your long thick hair locks. The titanium barrels feature a Sol-Gel Technology that makes the barrel body 37% stronger and 22% smoother so that you can release the hairs quickly and effortlessly without pulling or tugging them towards the machine.
Creates different types of curls and waves effortlessly
The 7 different tourmaline barrels along with the ionic technology helps you to style every length of your thick hair locks with versatile curls and waves without damaging them from a very high amount of heat produced by the curler machine. The easy rotatable lock on the handle makes it extremely smooth to change the barrels according to your styling needs. The auto shut-off feature and the heat-resistant glove ensures the highest amount of safety of the users.
A Perfect Tool To Create Versatile Curls
The 100% solid titanium made barrels heat up incredibly fast and also possess the heat for a long period using its Temperature Lock feature to curl each of your thick hair strands perfectly. The 4 different sized and shaped barrels are perfect to create professional-quality tight ringlets, spirals to large curls and waves in both short and long thick hairs effortlessly. Additionally, the infrared emission and the ionic technology protect hair from heat damage and promote silky, smooth, frizz-free tresses.
Which hair type is considered as thick hair?
Before discussing in-depth about curling iron for thick hairs, we should first know which type of tresses are known as thick locks and the benefits of having a head full of thick hairs. Understanding thick hair would help us to understand why certain features and components of a curling iron are super crucial to style this type of hair perfectly.
Hair thickness is determined by the width of each strand; if you slide one of your hair strands between your pointer finger and the thumb and the strand still has a detectable presence, then it's quite obvious that your hair is in the thicker category. Furthermore, if your pronounced tresses have high density then it could be concluded without any doubt that you have lustrous thick hair locks.
Is thick hair a blessing or a curse?
Most women consider thick hair locks as an absolute blessing because thick hair strands ensure gorgeous volume, they can be styled easily according to your demand and the style holds up better and longer than any other hair types.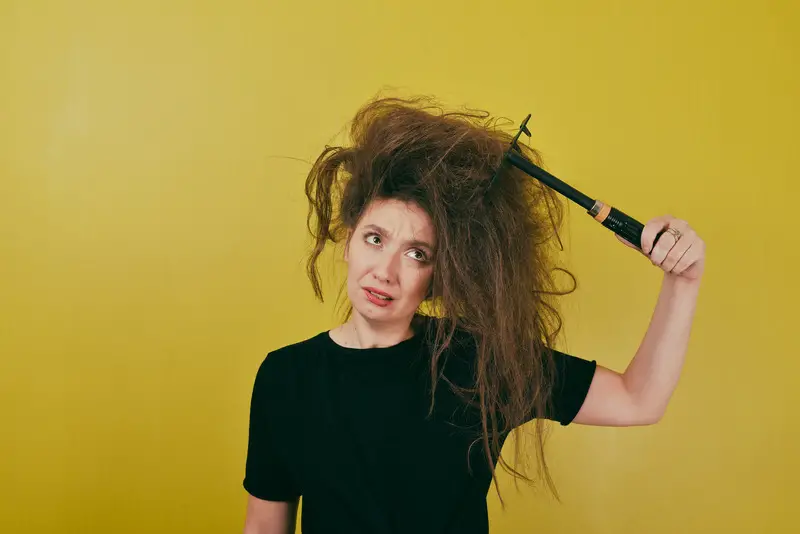 Then again there are few inconveniences that people with thick hair locks are unable to avoid; these hair strands are more prone to frizz and static and expose themselves to more tangles and knots. Moreover, thick hairs require more heat and time to style them properly. Therefore, to style your thick tresses perfectly, you need a styling tool that can generate a high amount of heat at a relatively less amount of time.
How to choose the perfect curling iron for thick hair locks?
Before choosing and buying the best curling iron for your thick hair locks, you must consider a few features and aspects so that you can enjoy the best results from your styling tool. Keep on reading to know in details about the aspects so that you have a clear-cut idea about how to choose the best curling iron for your thick tresses:
Consider your Hair length
When deciding which curling iron to buy for your thick tresses, hair length also plays a vital role as the barrel size of the curler depends upon the length of your hair. Generally, hair length is categorized into a) short hair and b) long hair. Below we have discussed in detail how barrel size changes with your hair length and which barrel sizes are the best for each of these hair length categories.
Short thick hair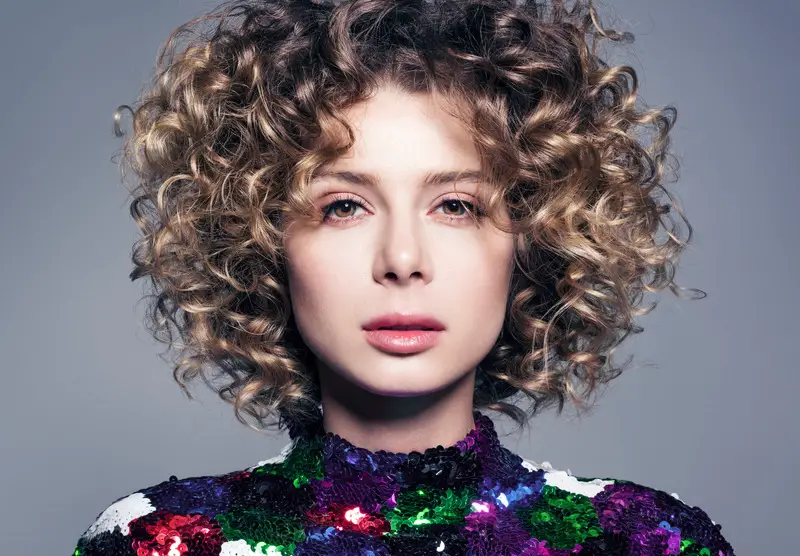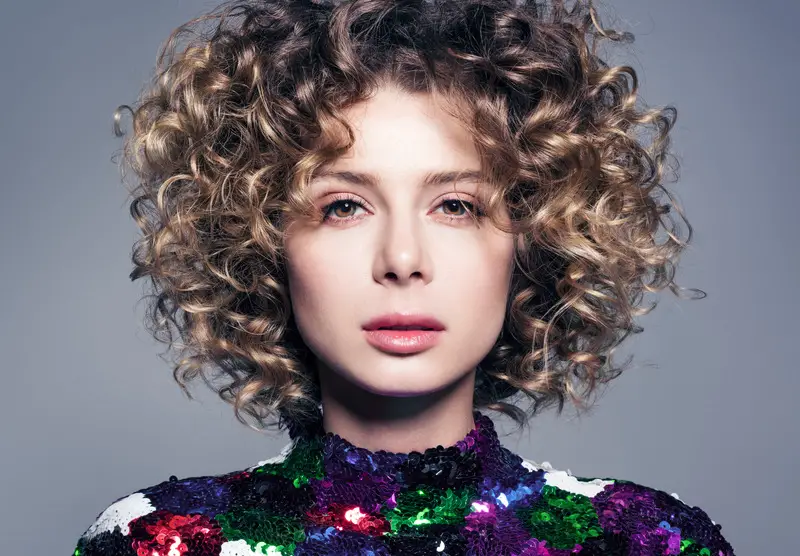 The best curling iron you can buy for your thick short hairs is the one with a smaller barrel; a big barrel of, say 1 ½ inch diameter cannot hold your short hairs in place properly let alone any kind of curls. Hence, hair experts always recommend curling tools with a barrel of 1-inch or less diameter to be used on short thick tresses for more effective curly and wavy hairstyles.
Long thick hair
Alternatively, when you have a head full of thick, long tresses, then it's always advisable that you choose a curling iron that comes with more than 1-inch sized barrel or barrels. This is because with smaller size barrels you will probably need the whole day to curl all your hairs and the curls on your long tresses will also not hold for a long time when created with a smaller barrel.
Types of curly/wavy hairstyles you want
What type of curl do you want in your thick locks? Big, bouncy, full of body curls? Beachy waves? Small, tight ringlets? Or all of them? Before going to shop for your ultimate curling iron machine, determine the type of curls you wish to have and know the relation between the hairstyles and the barrel sizes.
Big, voluminous curls and beachy waves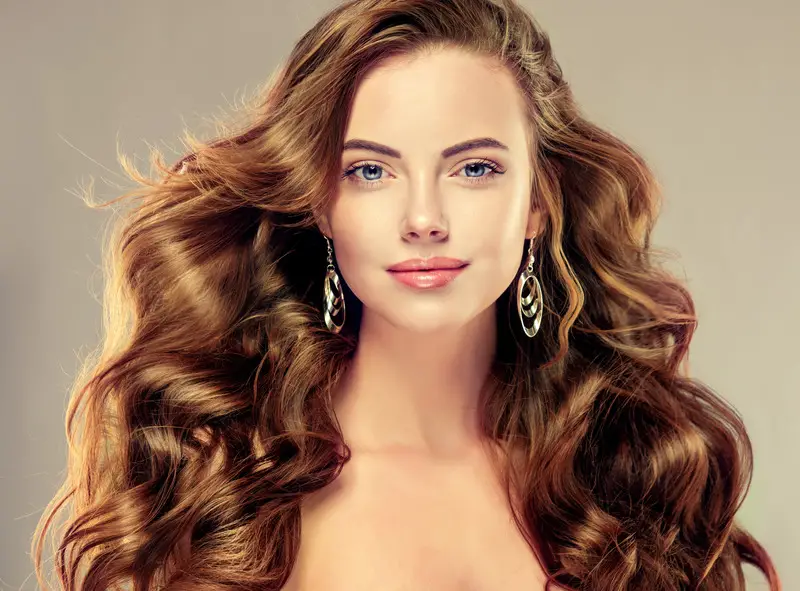 These relaxed, big messy curly hairstyles are perfect for your everyday casual, party, business and any other events.
Suitable for both short and long thick hairs, these sexy, tousled waves and curls can be achieved with a relatively bigger barrel; for short tresses use a 1-inch barrel and for thick long locks go for a barrel of size 1 ½ inch or more.
Small, tight curls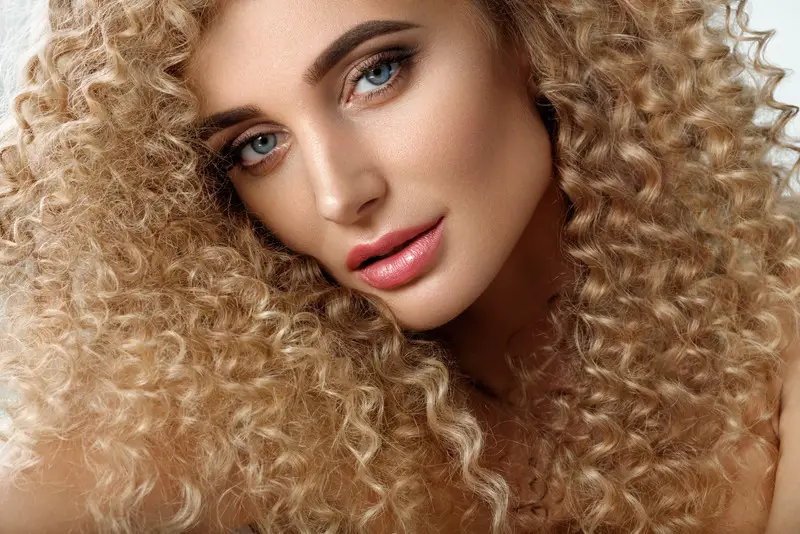 Tight curls give your hairs brilliant volume and amazing bounce, and if you want to style your thick hairs with tight, compactly coiled strands with tiny ringlets for a sexy, dimensional outlook, then you must choose a curling iron with a smaller barrel of size less than 1-inch; the smaller the barrel, the more teeny rings you will achieve. But always keep in mind that tight curls are not the best hairstyle for long tresses as it's quite hard to create small curls in long hairs and they cannot hold such curls for a long time.
Spiral curls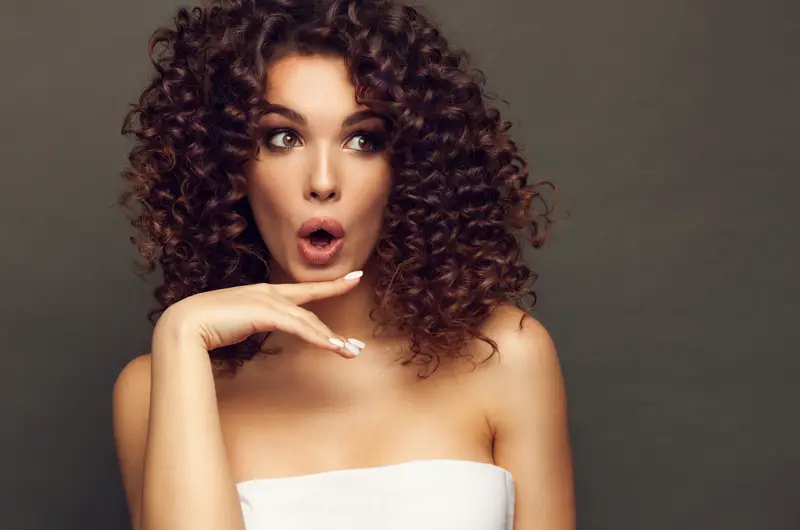 These intense S patterned curls are the classiest of all curls, and if you wish to style your precious thick locks with springy, spiral curls, then it's the best that you select a curling tool with a spiral barrel which is determined to create perfect, flawless spiral curls in your short and medium length hairs. Again, if you have long locks, this hairstyle is not recommended for you because long tresses are very much unable to hold these "S" curls on point.
Types of curling iron barrel
A curling iron doesn't always feature the same barrel type and style; different irons come with different rods for your hair styling convenience.
Below, we have discussed briefly the types of curling iron barrels and their features so that it's easy for you to determine what type would suit your need before buying a curling iron for your thick hair locks.
Types of curling iron barrel
Their Features
Cone shaped barrel/ Conical barrel
The cone-shaped barrel provides its users with 2 in 1 barrel feature; this smaller end and wider base barrel can create both large and tight curls at the same time with a single barrel. This barrel also comes in a reverse cone shape with a thicker end and a narrower base.

With a conical rod, you can achieve the most natural, luscious looking curls and waves that are tight at the top and relatively large at the bottom aside from your regular tight ringlets and big, bouncy curls.

The only drawback of a conical barrel is that it is relatively expensive compared to other other types of curling iron rods.
Cylinder or straight barrel
Cylinder barrels are the most common types of barrels that come with a curling iron. These barrels come in a wider array of sizes ranging from 3/8 inches to 2 inches to style your hair with different types of uniform curls; from spiral curls to teeny-tiny ringlets, big, bouncy curls, and lustrous beach waves, you can attain any hairstyle you want.
Pearl barrel
Pearl barrels are one of the latest additions in the curling iron family that caught a lot of attention due to its professional quality performance. This barrel has several small pearls or bubbles all along its body that is specially placed to create corkscrew curls and breath-taking beachy waves. Moreover, the pearl wands are extremely easy to use and are perfect for beginners.
Spiral barrel
The curling barrels with raised spiral or ribbon ridges are known as spiral barrels that were specially created to guide your hair strands into spiral shape. These molded barrels promises the best spiral curls with utmost perfection and care.
Interchangeable barrels
Interchangeable barrels are a bunch of different curling rods of different sizes and shapes that come with one single curling machine; one machine fits all the barrels and you can change them according to your styling needs. With such variety of barrels, an Interchangeable barrel curling iron is immensely popular because of its barrel flexibility and the ability to style the hairs with different types of curls ranging from ringlets, spiral, voluminous curls and tousled waves.
The shape and size of the barrel
The different shapes of the barrel, the sizes they come in and the various hairstyle they can create in your hairs are all discussed below so that you have a clear-cut idea about your preference while you buy your ultimate curling iron for thick hairs.
| Barrel Shape | Barrel Size | Hairstyle |
| --- | --- | --- |
| Cone shaped barrel/ Conical barrel | 0.35/0.70, 0.5/1, 0.70/1 inches | Can create both small, tight ringlets and big, bouncy curls |
| Cylinder or straight barrel | 3/8 inch to 2 inches | Every type of curls and waves |
| Pearl barrel | ½, ¾, 1, 1 ¼ inch | Tight, corkscrew curls and beach waves |
| Spiral barrel | ¾ , 1, 1 ¼ inch | Spiral curls |
| Interchangeable barrels | 3/8 inch to 2 inches barrels of different shapes | Every type of curls and waves |
Know more about the Technologies used
While choosing a curling iron for your thick tresses, make sure that it features high heat technology that creates curls and waves effortlessly but doesn't burn your precious locks. The technologies that are present in most of the curling irons are described in details below so that you know which one is the most preferable to use on your thick hairs:
Ionic technology
This advanced technology uses an ionic generator placed inside the barrel to release an adequate amount of negative ions to the hair strands; these negative ions form a balance of ions in your thick hairs to lock in hairs natural moisture and make them free from frizz and statics. Ionic technology also ensures that your hair locks remain protected from severe heat damage and you can enjoy shiny, smooth, manageable tresses.
Ionic technology is recommended for thick hair locks because of its ability to drastically reduce frizz and statics that are a common drawback of thick tresses.
Far infrared emission
Far infrared heat is the gentlest form of heat that penetrates each hair strands to transfer warmth, even in the deepest core of the hair shaft to style them effortlessly while preserving moisture in the hairs and replenishing the scalp. Far infrared emission also improves the texture of your hair, makes them silky, smooth and promotes new hair growth.
We prefer Far-infrared emission for thick hair tresses as this technology emits a high amount of heat energy to the hair strands to reduce styling time while creating the perfect hairstyle of your choice. Besides, this heating technology is perfectly safe for your tresses as far-infrared uses moisturizing heat rather than direct heat that locks in moisture and doesn't damage the hairs due to high heat.
PTC Heating element
Positive Temperature Coefficient Heating or the PTC Heating is a unique technology that replaces the traditional heating system with specialized ceramic heating discs that ensure superior, energy-efficient heat transfer within a small space. It is safe, long-lasting and cools down quickly to avoid heat damage.
But we do not recommend this PTC Heating element for thick hair locks because it generates the goal heat gently which requires a lot of time. Moreover, because of its ceramic construction, this element doesn't heat up to a point that is essential to curl thick hair strands.
Pulse Technology
The Pulse technology used in a curling iron uses electronic heating systems and powerful heating capacity to retain high heat throughout the styling process; this technology quickly recognizes heat loss from the barrel and restores the lost heat in no time for better performance. This heating process cuts down styling time drastically while assuring that the curls and waves hold for an extended period.
We have mentioned earlier that thick hairs require a high amount of heat for the perfect styling and that's why we advise using Pulse Technology for thick tresses as it ensures the right amount of heat needed to style thick hair strands quickly without the risk of damaging them. Furthermore, this mechanism distributes an immense amount of heat evenly to each hair strands to make sure that all your hairs get the same amount of heat for uniform styling.
Pay attention to the construction and Coating Materials
The barrel material also plays a crucial role in the heating and styling process of your thick hair locks and therefore, it's of utmost importance to know the materials and their features before you buy a curling iron. Keep on reading, because we have discussed all the materials that are used to construct the barrel of a curler and their characteristics so that you know which material you should choose to curl your thick tresses effortlessly without damaging them from high heat.
Ceramic
Ceramic is the classic, most common construction material of curling iron barrels; because of its several benefits, this non-metallic material is a fan favorite for many years. The barrels made from ceramic have a smooth surface that distributes uniform heat evenly while gliding through hair strands swiftly without causing any damage, breakage, tugging, and snagging.
Also, ceramic is known to produce a finite number of negative ions that keeps hairs natural oil intact and your locks hydrated.
We do not recommend ceramic constructed barrels to be used on thick hairs because ceramic rods cannot generate a very high amount of heat as this material has a low heat tolerance; its maximum attained temperature is around 350 degrees Fahrenheit which is not high enough heat to curl thick tresses.
Tourmaline
Tourmaline is a semi-precious stone that is crushed into powder and then used in the construction process of a curling barrel. Tourmaline barrels protect hairs from constant heat damage by emitting a definite number of negative ions as well as infrared energy to each hair strands that locks in moisture and oil and forms a protective layer over your tresses.
We recommend tourmaline coated barrel for thick hair locks as tourmaline provides the required amount of heat to curl thick tresses and at the same time ensures that your precious locks don't suffer from any heat damage or hot spots.
Titanium
Titanium is said to be the strongest metal found in nature and thus curling iron barrels made from titanium are long-lasting and serves their users with extended durability. Other than its durable characteristic, titanium rods also release a limited amount of negative ions to the tresses to lock in moisture and seal in the natural essential oils in the hair cuticles to reduce frizz and result in silky, smooth hair locks.
Titanium is the most preferred barrel material for thick hair locks as thick tresses require an excessive amount of heat to style them perfectly and titanium tends to heat up quickly with intense temperature and retains immensely hot for a long time. Moreover, a titanium barrel evenly distributes heat to each hair shaft to make sure that all your hair locks are curled flawlessly. Also, the negative ions along with the finite infrared emission not only make hair more manageable but at the same time protect your thick locks from heat damage.
24K Gold
Even though gold is a precious and expensive metal, more than a few companies use 24K gold in the construction process of their curling barrel because of its amazing features; gold is a good conductor of heat and therefore, it heats up super quickly to your desired temperature. Moreover, the teeny-tiny gold particles help to enhance the hair follicles, keep hairs moisturized and nourished, and reduces the amount of hair fall to an extent.
To add more, gold plated barrels are extremely sustainable and last for an extended period making the curling iron very much durable.
We suggest 24K gold hair barrels for thick hair locks because gold constructed rods adopt high temperature quickly and hence they remain very hot for a very long time, which is perfect for thick hair tresses as they require a high amount of heat to style them flawlessly. Furthermore, because of the above-discussed hair beneficial features of gold particles, your hairs remain damage-free even after exposing them such a high amount of heat.
Temperature Settings
While shopping for a curling iron for your thick hairs, it's advisable to always check the temperature settings as not all temperature/level of heat can curl and style your thick tresses flawlessly. Let's continue reading to find out the best temperature level that should be used on thick hairs to curl or wave them perfectly.
High (minimum 400 degrees Fahrenheit)
Thick hair locks require more time and heat to curl properly because of their stubborn nature. Thus, while buying a curling tool for your thick tresses, we recommend you to pick a curler that can reach a minimum of 400 degrees Fahrenheit at a very short span of time; high heat can curl thick locks flawlessly and at the same time can also cut down styling time drastically for faster and more effective results.
Low (less than 400 degrees Fahrenheit)
Using anything less than 400 degrees Fahrenheit on your thick tresses won't work as the way you expect them to work; a curling iron that is able to produce low temperature might be a great choice for fine/thin hairs, but it would definitely fail to curl your thick locks and therefore, we never suggest a curling tool that produces less than 400 degrees Fahrenheit for thick hair tresses.
A quick summary of the important features
Let's have a quick look at the most important features that you should consider while shopping for the ultimate curling iron for your thick tresses:
Technology: Ionic and/or infrared emission or Pulse Technology
Material: Tourmaline, Titanium, 24k Gold
Temperature settings: High (minimum 400 degrees Fahrenheit)
Barrel type: Conical, Cylinder, Pearl, Spiral or Interchangeable
Barrel size:

Barrel of 1 inch or less –for short thick hair
Barrel of more than 1-inch- for long thick hairs
Our Top Picks
After a lot of research, reviews, and considerations, we have picked the Nano Titanium Spring Curling Iron from BaByliss PRO as our top favorite for thick short hairs because it not only fulfills all our "must-have" criteria but at the same time provides us with some extraordinary additional features for professional-quality hair styling performance.
This BaByliss PRO ¾ inch hair tool incorporates an advanced technology that helps to heat the barrel super quickly and also assists to maintain heat stability throughout the rod in ultra-high temperatures to curl your short thick hairs effortlessly in a very short amount of time. Moreover, the 50 heat settings of this model enable you to choose your desired temperature by just turning the knob placed in the machine handle.
To add more, BaByliss PRO offers an array of different barrel sizes of this particular curler model so that you can choose the perfect size for your sexy, short tresses.
Few additional features
Includes a Turbo Heat button that instantly boosts heat for immediate results
The 8-foot tangle-free swivel cord of this curler model ensures severe freedom of movement during the styling process
BaByliss PRO keeps the price tag of this curling iron budget-friendly so that it is affordable for everyone
If you are not comfortable using titanium and want something more polished and sophisticated, then this HOT TOOLS Professional 24K Gold Marcel Iron with a 1-inch cylindrical barrel is the perfect hair tool to curl your short thick tresses. We have chosen this model as an alternate option of the BaByliss PRO as both their barrel construction material and the heating technology they use are different but they provide extremely similar results in your short thick hairs.
The gold construction along with the Pulse technology helps this curling tool to gain high temperatures very quickly and also maintain the heat for a long time to create professional-grade curls and waves that you have always desired without causing any harm and heat damage to your luscious hairs. This combination of technology and material also shows results almost immediately by cutting down styling time by several notches.
Furthermore, similar to the BaByliss PRO Spring Curling Iron, this curling machine also comes in several different sizes ranging from 3/8 inches to 1 ½ inch for you to choose from according to your demand.
Few additional features
The lock feature of the gold barrel helps to hold the hair strands more securely
Includes a Touch Guard™ protector for easy handling near the face and the neck
The Soft Touch Marcel handle ensures a comfortable, non-slip grip
Comes with a Rheostat control dial to change heat settings effortlessly
The separate on/off switch ensures maximum convenience
Includes an 8 Professional swivel cord
Backed up by 1 year warranty period
We again pick the Nano Titanium Spring Curling Iron from BaByliss PRO as one of the best curling iron for thick hairs, but this time for long tresses. This curling tool keeps on scoring top positions because of its amazing features and extraordinary styling results. The Nano-Titanium construction of this tool combined with the high heating technology and 1 ¼ inch cylinder barrel transfers a tremendous amount of heat the hairs and creates professional-grade curls and bouncy waves in your long thick tresses without causing any burns and damage.
Few additional features
Comes with 50 different heat settings to choose from according to your styling preference
Incorporates a Sol-Gel Technology that makes the iron barrels 37% stronger and 22% smoother than the barrels of any standard curling iron
Extremely lightweight and hence easy to carry around
This PARWIN PRO BEAUTY 7 in 1 Inter-changeable curling toolset grabbed the top position as it offers us all the important features and components we look for in a hair styling tool for every thick hair lengths as well as, with its huge number of different sized and shape barrels, this curler is able to create every type of curls and waves you wish for in every thick hair length ranging from short, medium and long.
From small, tight ringlets, corkscrew curls and spiral curls to big, voluminous curls and beach waves, this tool is determined to style your thick hair locks with professional-grade versatile results at the comfort of your own space.
Few additional features
The machine heats up from 170 F to 450 F in just 30seconds
This curling set comes in a heat-resistant bag for easy storage and effortless portability
Features LCD screen with easy temperature controls
This set also includes a heat protectant glove to ensure maximum safety of the user
The 8-ft long 360º swivel cord offers ease of use and freedom of movement during styling
Allows 60-minute auto shut off for an immense amount of safety and security
Comes with a user manual to provide all the needed information to its buyers
This CORTEX styler set makes for a great alternative of our top favorite iron set for all thick hair lengths because it comes with all the required features to style short as well as long thick hairs with several versatile curls, ringlets, and waves; we are addressing it as an alternative because it comes with a few fewer barrels than the PARWIN PRO BEAUTY's one and all 4 of its cylindrical, and conical shaped barrels are made from 100% solid titanium.
The titanium-coated rods gain heat super quickly and swiftly,  and also retains the temperature level with its temperature lock feature to deliver consistent heat to each hair strands from the inside out for the perfect, uniform curls while the infrared energy and the negative ions prevent your thick locks from getting burned and damaged.
Moreover, because of its lightweight, looped end, and dual voltage feature, this CORTEX curler set is extremely easy to carry around with you every time you travel.
Few additional features
The sleek, ergonomically designed handle of the curler is non-slip and provides professional-grade grip
The set also includes a heat-resistant glove for the safety of your hand and fingers
The handle includes a digital display for effective temperature monitoring
Features programmable auto-shutoff feature for additional safety
Comes with an 11' heat-resistant swivel cord to move easily during styling and to prevent cord tangling
CORTEX offers Limited Lifetime Warranty for this curling tool
Final Words
Curling your thick tresses is not-at-all tough when you have the right tool, and curling iron is undoubtedly one of the best tools to create lustrous curls and waves in your thick locks; many people use the wrong iron-type or barrel size and wonder why they couldn't get the curls they have desired. The curling irons that we have recommended above are the best for their respective hair lengths and are determined to create the best curls and waves you have wanted in your thick tresses.
FAQs
1. What type of curling iron is best for thick hair?
According to studies and general consensus, an Ionic or infrared emission curling iron with Pulse technology is best for thick hair. It keeps the hair hydrated, moisturized, and less frizzy. The material of iron for thick hair should ideally be Tourmaline, 24k Gold, or Titanium. The temperature settings to be used should be a minimum of 400 degrees F. Barrels could be conical, Pearl, cylindrical, Spiral, and interchangeable. A 1" or smaller barrel is suitable for short thick hair while a barrel size of above 1" is good for long thick hair. 
2. How do you curl thick hair with a curling iron?
Use an anti-frizz shampoo to clean the hair. It must be totally dry before curling. Choose the right curling iron and perfect barrel size for the type of curls you want. Ceramic and titanium curling irons are preferred for thick hair types. Pre-heat the iron to 200 to 300 degrees F. If your hair needs a little more heat, increase the temperature to a maximum of 400 F. Divide the hair into sections and apply a heat protectant. Depending on the type of curls you want, wrap each section of the hair around the barrel accordingly and hold for 20-30  seconds. Roll out the hair from the barrel and loosen out the curls with the fingers. Use a hair spray to keep the curls in position for longer. 
3. What size curling iron is best for thick hair?
A 1.5" barrel size is a good intermediary for short or long thick hair. It works for tighter or loose curls. Usually a 1" or smaller barrel is suitable for short thick hair while a barrel size of above 1" is good for long thick hair. 
4. How hot should a curling iron be for thick hair?
For thick hair, the curling iron should be set between 200 to 300 degrees Fahrenheit. Higher temperatures can cause the strands to burn.
Last update on 2021-09-15 / Affiliate links / Images from Amazon Product Advertising API
---
---