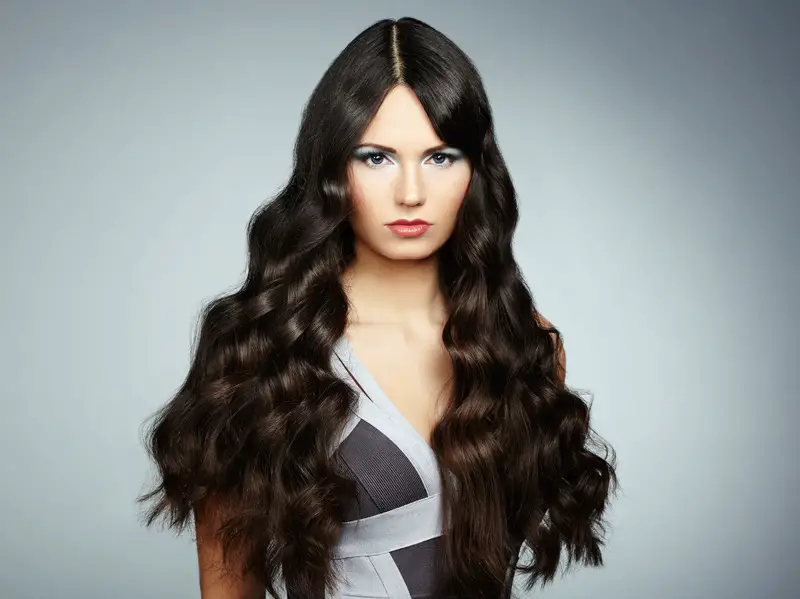 It is a big barrel, so it's best suited for longer hair. Expect largely tousled loose waves like Victoria's Secret models. If you want to add more body and volume to your straight, thin or fine hair, this curling iron will do the job. If you take thin sections of hair, then you can get twisty spiral waves. You shouldn't expect tight, springy corkscrew curls with this barrel.
It can create volume and a hint of the wave to long hair
For shoulder-length of hair, may add volume or softly bend the end of the hair in or out for posh look
Will build volume and body for fine hair
Name
T3 - BodyWaver 1.75" Styling Iron for Waves and Loose Curls
Revlon Perfect Heat 1-3/4inch Curling Iron
Hair type
Straight, silky, fine/thin hair & Normal wavy medium hair
Thick, coarse, dry and curly hair
The 1.75-inch curling iron is best suited for longer hair. You can get loose waves or use it to add body to your poker-straight hair. Don't expect tight corkscrew springy curls with this barrel size.
Short-haired people will not get any benefit other than volume. However, on short hair, too much volume also may not look good thus best to avoid this size.
Best for: Straight, silky, fine/thin hair & Normal wavy medium hair
Features
Hollow Barrel Design: the heat disperses evenly and consistently for damage-free styling
SinglePass Radial Technology: the temperature over the barrel is consistent
Ceramic + Tourmaline combination for healthy sleek and shiny hairstyle
Ionic: Seals the hair cuticle while creating smooth and shiny waves
Suitable for all types of hair, especially best for sensitive, prone to damage hair
Doesn't harm hair due to hot spots
5 Temperature setting up to 410°F: Perfectly styles all hair types and textures
Slim Ergonomic grip, Cool Tip & Stand: For quick and easy styling
Nine ft. Tangle-free 360° Swivel Cord
1 Hour Auto-shut-Off: for your safety as well as the security of the iron itself
2-Year Warranty: worry-free support options
Straight, silky, fine or thin hair lacks body and gets damaged easily if overexposed to heat. For these reasons, the best 1.75-inch hair curling iron for Straight, silky, fine/thin hair is T3 BodyWaver Styling Iron.
The ordinary curling irons usually have a single central heat plate. It doesn't heat the complete barrel evenly which causes heat fluctuation, hot spots, and damage due to frequent use. The newly innovated hollow barrel design of T3 BodyWaver has SinglePass Radial Technology which means, it has a ring of ceramic heaters along the wall of the barrel delivering fast, stable heat for healthy, long-lasting hairstyle without damage. Ceramic produces far-infrared heat that doesn't dry out hair and tourmaline locks the cuticle and boosts shine like a professional salon treatment. It's like you got a posh blowout style without using a blow-dryer with a paddle brush. The curling iron has 9 ft tangle-free 360° swivel cord and an ergonomic grip for comfort while styling your hair.
Best for: Thick, coarse, dry and curly hair
Features
Triple Baked Ceramic, Tourmaline & Ionic Technologies for softer shiner curls without frizz.
30-second fast heat-up for instant results
High Heat, Constant Heat for the perfect styling level
30 Heat Settings with Automatic Shut Off
Includes Protective Silicone Heat Shield
Weight: 1.1 pounds, very light
Automatic shut-off after one hour
Worldwide dual voltage
Rubberized handle pads for comfortable grip
Tangle-free 360° swivel cord
Protective silicone heat shield helps you 'pack and go' instantly just after using it
Thick, coarse, dry and curly hair tends to become flat on the crown and dull and frizzy at the bottom. Thus, Revlon Perfect Heat 1-3/4inch Curling Iron is the best 1.75-inch curling iron for this type of hair due to its anti-frizz triple baked Ceramic + Tourmaline combination barrel.
The ionic treatment of triple baked Ceramic + Tourmaline combination instantly brings life and shine to your dull and frizzy hair. Heats up in 30 seconds flat and even heat distribution tames even the most unruly hair gently without damaging it. It has 30 heat settings reaching up to 400°F. The Ceramic discharges far-infrared heat which preserves the natural moisture of the hair. The Tourmaline emits negative ions at the same time to seal the hair cuticle for glossy and lustrous waves.
Heat sensors continuously monitor temperature maintaining the heat at the same level for polished salon waves. Hair doesn't stick to the barrel and the curling iron glides through your hair effortlessly. It is lightweight and has the worldwide dual voltage feature making it travel- friendly too. It also comes with a heat shield so you can pack it in your bag or luggage just after you have used it and nothing will burn or melt.
Frequently Asked Questions
Q1. What kind of curls do I get from 1 3/4 curling iron?
This is a big barrel and best suited for thick long hair. It makes large and loose tousled waves in long hair and adds volume. 
Q2. Revlon 1 3/4″ curling iron how hot does it get?
This Revlon curling iron provides quick heating in 30 seconds and enables 30 heat settings with a maximum heat up of up to 400°F. 
Q3. What size curling iron is best for thick hair?
1.5 to 1.75" barrels are ideal for thick hair as a thin barrel will not be able to control the shape of the hair. These barrel sizes can provide both tight and loose curls for thick hair.
Q4. Can curl iron damage hair?
Overuse of any heating tool on the hair can cause damages in the long run. Curling irons should be used sparingly and not on an everyday basis. Although these irons are backed by technology to keep the hair protected and healthy, heat will eventually dry the hair and make it frizzy, causing breakages.
Last update on 2023-09-23 / Affiliate links / Images from Amazon Product Advertising API
---
---