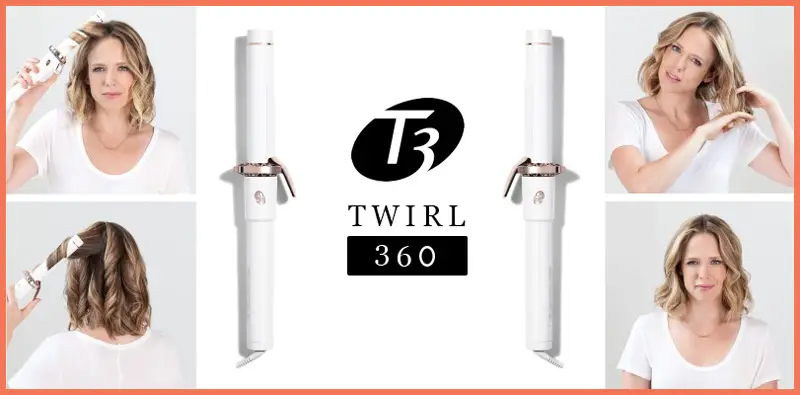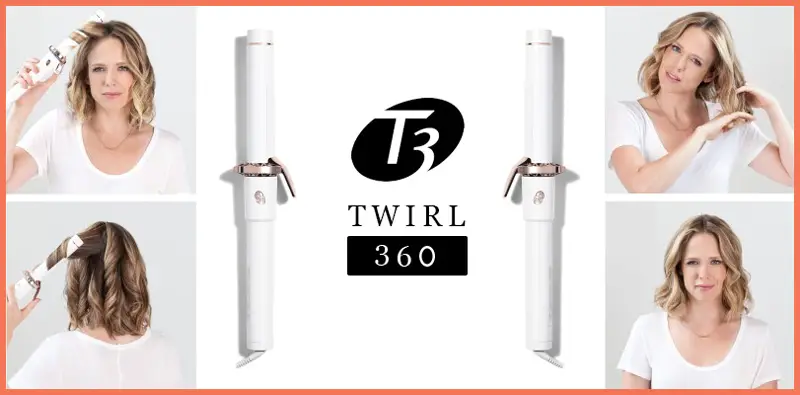 T3 is the brand that has ventured the mainstream hairstyling and has created a milestone in hair styling aspects by trading products loaded with some advanced and unique features. Though this sky-high success is a sum of an extraordinary collection of some flawless curling irons but it is a fact that among all the products the T3 Twirl 360 Curling Iron has contributed the most to uphold the elegance and dignity of T3 brand. T3 Twirl 360 is a motion-sensing gadget that determines the movement of your wrists and creates polished and flawless curls with a moderate shot of wrists.
Assessment:
In this high tech era, it has become a myth to buy a product without undergoing the dynamic aspects and features and all the ins and outs info of a certain product. Besides, to live through the details a critical overview is mandatory. Let us just go through the derogatory estimation by pursuing sectional ratings and overview based on the features and properties of the T3 Twirl 360 Curling Iron.
Mechanical Outlooks:
Positive Traits:
Exclusive Tourmaline Ceramic Barrel
Moderate Temperature Range (260- 410)
1.25″ Epitome Barrel Span
T3 Twirl 360 offers its buyers with the moisture sealing expert barrels infused with Ceramic Tourmaline technology. This hybrid material that is initially an advanced provision of mere a Ceramic or a Tourmaline material which later procured gold like esteems in hare care standpoints. This crystal born silicate material broods 20 times extra moisture sealing ions that locks the moisture in roots and smooth hairs along with a silky volume. Tourmaline Ceramic is a semi-precious material that discharges extra negative ions to ensure smooth hairs and to fight back the main culprits (positive ions) behind dull, messy and lifeless stubborn straight strands. The negative ions seal the essential oils and prevent hair damage and frizz due to over and constant heating or styling. Moreover, Tourmaline produces infrared heat that ensures frizz-free, silky, smooth hairs.
Against the ancient belief of curls' quality and durability, coinciding with temperature range; T3 Twirl 360 has come with the moderate temperature range. Nowadays the hairstyling trade markets have been jam-packed with the so-called higher temperature hair gadgets. Frequent uses of these gadgets with higher temperature end up damaging hairs and creating split ends. However, the T3 Twirl 360 curling iron is featured with a moderate temperature range of 260F- 410F so that constant styling cannot harm or damage your strands. This temperature range is ideal for every type of hair and it ensures lively curls even the second day of styling.
T3 Twirl 360 has a barrel of 1.25″ that is capable of creating flawless loose waves along with some defined basic curls. This barrel length is necessary for waist length hairs. Form loose waves to old Hollywood curls you can turn your boring straight strands into extremely lavish curls with this perfect-sized barrels.
Negative Traits:
Absence of Barrel Flexibility
Unlike all the other models of T3, family T3 Twirl 360 does not provide interchangeable barrel diversity. You cannot attach external barrels to this model. You are obliged to stick only to one sized barrel thus; you may not achieve loads of variety in styling aspects.
Overall Verdict:
Except for the barrel, flexibility aspect T3 Twirl 360 boasts the latest and most impactful mechanical features that are all you have been waiting for. The features are so newly arrived that no other curling irons have been able to surpass those features until now.
Sectional Rating and Comment: 4.5/ 5, mechanically spell bounding
Technical Outlooks:
Positive Traits:
T3 SoftAire Technology
T3 Single Pass Technology
T3 Gyroscopic Technology
Auto Rotation Technology
T3 Twirl 360 has introduced its users to the most innovative technology. The SoftAire technology is an internal specialized engineered fan that emits negative ion- enriched air. This specialized air locks moisture by sealing cuticles and leaves the hair shiny and smooth. This air makes the hair silk-like smooth by diffusing frizz. Traditional curling irons generate hurricane-like airflow and cuticle scorching heat that lead the hair to damage and split ends. T3 Twirl 360 has ultimately banged over all the unintelligent products prevailing in the market.
T3 Single Pass Technology might be the most powerful and prestigious feature in the techno aspect. No other brands or products have been witnessed to use this temperature controlling technology. Single Pass Technology is a heat censoring technology. A sensor chip is preserved within the gadget that detects your hair type and controls the temperature according to the hairs' heat resistance capability. The fundamental job of this sensor is to curl or style hairs minimizing the temperature. This sensor ensures even and consistent heat throughout the barrel and so the risks of hair damage seem to be drastically reduced.
Using the rocket science in curling irons, T3 Twirl 360 is super has featured the motion-sensing technology the gyroscopic technology that is used in space exploration, avian and other hi-tech applications, gyroscopic digital technology detects motion and orientation to move and rotate substances with great precision and little effort. Gyroscopic technology is a gear consisting of a rotating wheel so mounted that its axis can rotate freely in certain or all directions, and capable of maintaining the same absolute direction in space in spite of movements of the mountings and surrounding parts: used to maintain equilibrium, determine the direction, etc. T3 Twirl 360 has established its patent-pending gyroscopic technology to put a new milestone over the traditional curling iron, making styling your hair instinctual and graceful. This technology senses the simple movement of your wrist, operates the gadget following the movement, and minimizes efforts.
T3 Twirl 360 is wrapped with all the latest techno qualities. Along with the gyroscopic technology, this very gadget has auto-rotating technology. Auto rotating technology rotates the barrels automatically with a simple press of switch. This ultimate effortless technology removes your wrist movement; you just need to adjust the hairs to the clamp and tap the Go button rest of the work will be performed by this smart gadget by its own. Moreover, the auto rotation offers 2-speed rotation that means you can control the rotation speed. If you are a newbie or have sufficient time, you may go for the slow speed. Again, in case of hurry, you may choose the fast mode and get your perfect curls within a minute or so.
Negative Traits:
Absence of Precision Interlock System
T3 Twirl 360 does not provide the precision interlock system and lacks to attach external barrels.
Overall Verdict:
According to technical aspects, this gadget is unbeatable still now, as it has featured some over the top high techno specs. Despite the absence of the Precision Interlock System, T3 Twirl 360 is a next-generation apparatus.
Sectional Rating and Comment: 4.5/5, technically peerless
Functional Outlooks:
Generates Multiple Styles of Curls
This curling gadget allows you to create loads of waves and curls. Somehow, the 1.25″ barrel cannot produce tight or defined curls. However, when it comes to eaves and natural curls it works like a pro. You can achieve voluminous waves, loose waves, Blowout Waves, Ombre Curls, Spiral Curls, Neat Beachy Curls, and many more hairdos.


Overall Verdict:
All in all, scrutiny has certified that this gadget is at its best for creating loose curls and some other hairstyles.
Sectional Rating and Comment: 5/5, functionally flexible.
External Appearance:
Classy Colors
Meek Designs and lucid detailing
Lavish Materials
T3 Twirl 360 being the most sophisticated and posh looking model has nothing to do with all those cheap, eye-distracting colors. It has chosen the lavish majestic and elegant white color to maintain its legacy.
T3 Twirl 360 is bold and unique in designing the outlooks. Avoiding all the traditional underrated design views it has built something classy of its own. Avoiding unnecessary designing T3 products keeps it light and all the products contain lucid detailing that helps the users to perceive the direction easily.
T3 uses opulent materials like black chrome, magnificent resins, glossy, sleek and matte metals. These extravagant materials give it an elegant look.
Overall Verdict:
An overall assessment notifies that the T3 Twirl 360 is a treat to eyesight.
Sectional Rating and Comment: 5/5, erudite in external appearance.
Hair Care Outlooks: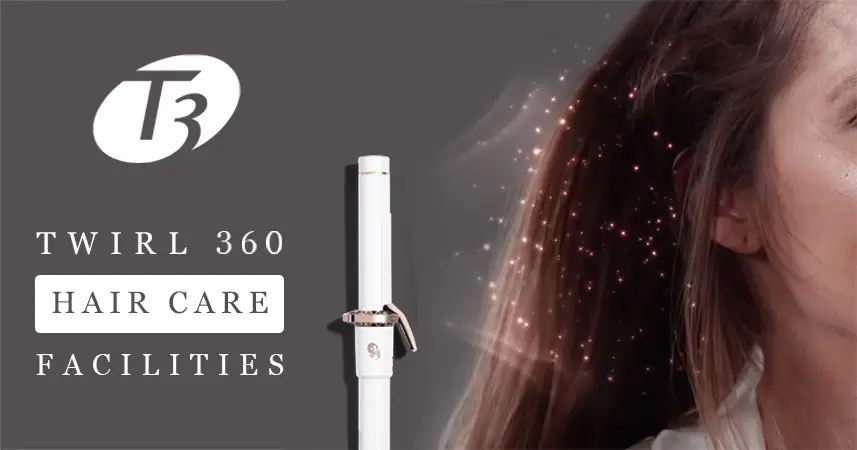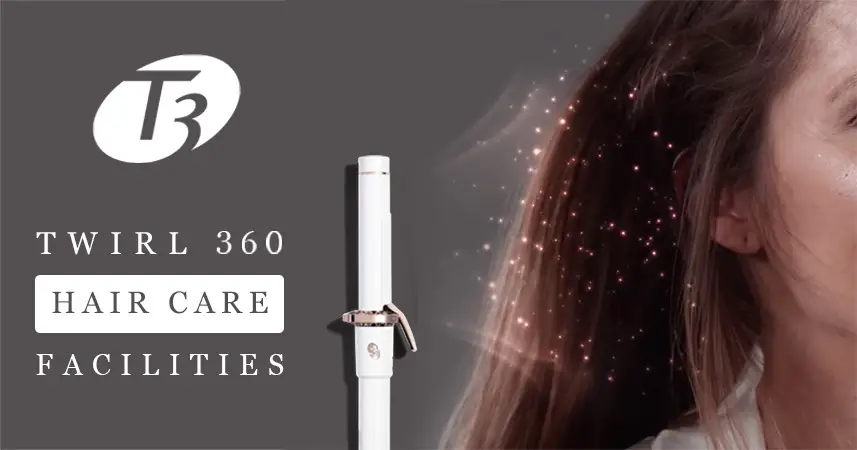 Smart Heat
Moisture Sealing
Infrared Heat Technology
Five-heat settings technology has made the T3 Twirl 360 applicable for every hair type, which consumes over hair drying and heat damage. Single Pass, SoftAire technologies generate even and consistent heat that gives ultimate hair protection.
The Tourmaline Ceramic technology disperses the extra negative charged ions that lock the essential oils as well as the moisture into the hair roots. Thus, your hairs remain healthy and free from damages.
Tourmaline produces infrared heat that nitrifies the hair and makes them silky smooth and tangle-free. This technology locks the moist from roots to tip.
Overall Verdict:
This model along with its features is an ideal product for any type of hair as it does not only prevents damaging but also serves the hairs with better nourishment.
Sectional Rating and Comment: 5/5, Gentle in hair care.
Safety Outlooks:
Auto shut off
Five Heat Settings
Swivel Cord
The T3 Twirl 360 has a one-hour auto shut off technology that shuts the gadget off automatically after an hour. Thus, the risk of any kind of unwanted accident is minimized.
Five-heat settings technology allows the user to control the heat and minimizes the risk of hair burning.
The 360 rotating 9 ft. the swivel cord makes it easy for the user to keep distance with the plug point and avoid any kind of electrical shock.
Overall Verdict:
This model is designed to be extremely safe for users while using. It has minimized even we can say removed the unwanted accidents like hand or hair burning, electric shock or explosions.
Sectional Rating and Comment: 5/5, benign in safety.
Attachment Outlooks:
High Heat-resistant Glove
Soft Travel Tote
Booklet
T3 Twirl 360 comes with a pair of gloves made of Meta-Aramid Fiber to protect our hands from being burnt.
The T3 Twirl 360 curling iron kit also includes a Soft Travel Tote. It helps to store or carry your curling iron during traveling
T3 Twirl 360 allows a booklet (user manual) inscribed all the instructions in it.
Overall Verdict:
Comes with all the essential attachments and makes the hairstyling process easy.
Sectional Rating and Comment: 5/5, flawless in attachment aspects.
Price and Warranty:
T3 products are a bit pricey but all the sophisticated features worth this amount.
All the products ensure a 2 years guarantee but the warranty does not include any misuse or breakage.
Sectional Rating and Comment: 5/5, affordable in price.
Suggested Hair Length: Thick, Long, Curly and Semi Curly hairs
The 1.25′ barrel makes relatively bigger curls. Big curls look quite ineffective on short or medium length hair but sometimes shoulder length hairs may carry the big curls gorgeously, long hairs are best for maintaining big curls. Big curls do not add volumes to hairs besides big curls need thick hairs to carry the curls perfectly. Therefore, thick hairs are better for big curls than thin hairs. The heat range (260- 410) is moderate for semi curly or curly hairs but straight strands tend to be unaffected.
Achievable Curls
Voluminous waves, loose waves, Blowout Waves, Ombre Curls, Spiral Curls, and Neat Beachy Curls.
Conclusion:
Graphical Overview: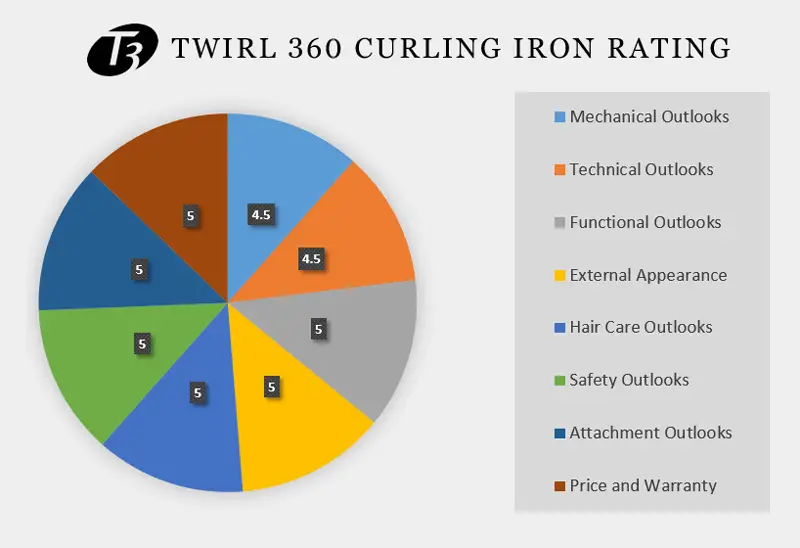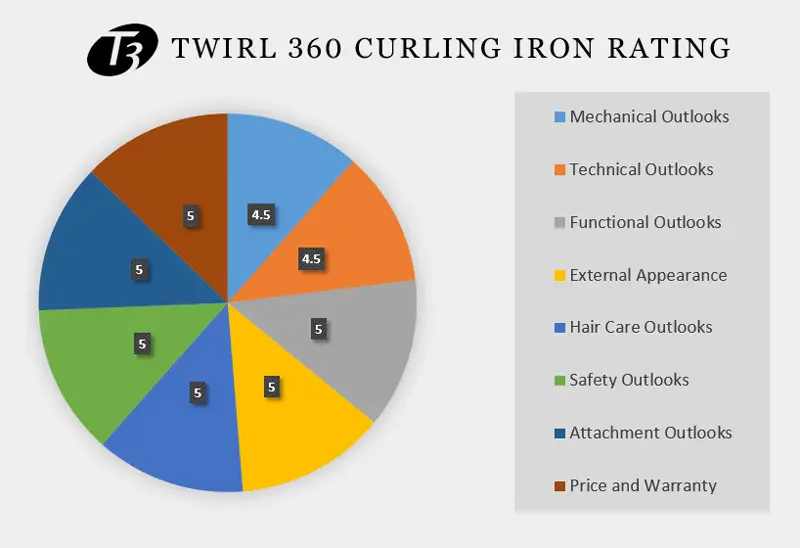 According to the sectional ratings, this product earns an average of 4.9 as an overall rating. Twirl 360 curling iron with all those lavish features and boastful ratings is surely an intelligent investment for you. T3 single pass technology and auto-rotating Ceramic Tourmaline infused barrel have made this curling iron the best in the team.
T3 Twirl 360 Curling Iron
Product Name: T3 Twirl 360 Curling Iron
Product Description: Please see the above product specification
Price: Check the latest price from Amazon
Currency: $
Availability: InStock
Mechanical Outlooks

Technical Outlooks

Functional Outlooks

External Appearance

Hair Care Outlooks

Safety Outlooks

Attachment Outlooks

Price And Warranty
Summary
According to the sectional ratings, this product earns an average of 4.9 as an overall rating. T3 Twirl 360 curling iron with all those lavish features and boastful ratings is surely an intelligent invest for you. However, it seems to be a bit pricey but this model has all the properties present to take your hairstyling to another level. You must give it this model a try.
Comments Rating
( reviews)
T3 Twirl 360 Motion-Sensing Auto-Rotating Curling Iron – Check Current Prices On Amazon
---
---