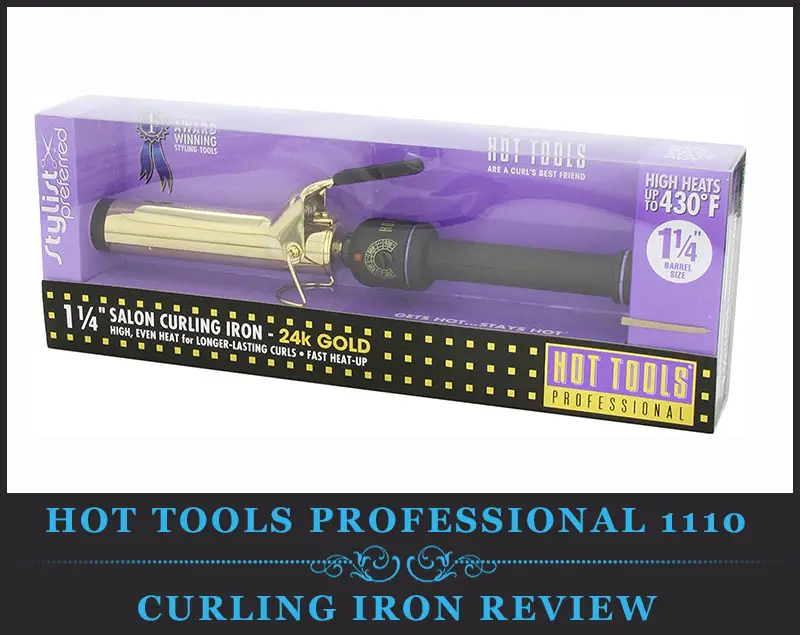 Curling hair has become an inevitable hairstyle among women. But choosing the right curling iron is not so easy as you have to consider several factors to find out the perfect match for your hair. The pros and cons of Hot Tools Professional 1110 Curling Iron with Multi-Heat Control, Mega 1 ¼" is presented below that will help you decide what to do.
Hot Tools Professional 1110 Curling Iron Specification
Item
Details
Product Name
Hot Tools Professional 1110 Curling Iron
Brand
Hot Tools Professional
Product Color
Gold colored barrel with black handle
Barrel Size
8 Sizes: 1", 1 ½", 1 ¼", ½", 2", 3/8", 5/8", ¾"
Material
Gold plated
Best Suited Hair Length
Long hair
Best Suited Hair Type
Thick to coarse hair
Best Suited Hair Style
Loose curls
Specialty
In our blog, it is selected as all around best value curling iron. It has 24K gold-plated barrel which casts important role in heat management.
Overall Product Size
15.2 x 2 x 4.8 inches
Weight
1.4 pounds
Voltage System/Limit
110V
Plug-in system (US/Europe)
US plug-in system
Chord length
8 feet swivel cord
Heating Temperature
85 watts




Low Level: 280°F (136°C)


High Level: 430°F (220°C)



Why you should buy this product?



24K gold plated produce helpful heat


Jumbo barrel gives nice, long lasting loose curls


Pulse Technology ensures consistent heat


Multi heat distribution system


Great Spring Clamp


10 heat levels


Long lasting heavy duty product


Faster heats up


Extended cool tip



Negative issues of the product



Very short time warranty limit


No auto on/off option


Outside of US, need Voltage Converter and Adopter



Additional Equipment



User Guide


Soft and secure Handle


2 spare springs


Has on/off switch



Price
$28.70
Warranty
Limited 1 year
Pulse Technology:
You not only need a lot of heat for curling your thick or coarse hair, but the heat must be consistent for better performance. On the other hand, curling irons need to heat up within a very short time. Otherwise, you have to wait for a long time which nobody would like. You will not have very pleasant experience if the heat varies while curling your hair. Put an end to this sort of discomfort having one of these products because this product has come with Pulse Technology. Pulse Technology ensures that the irons get hot instantly and remain hot as long as you want it to be. Thus, you do not need to wait for the iron to heat up which will save your valuable time and you will get consistent heat for the best performance. Eventually, you will be able to curl your hair quickly and comfortably.
---
---
Variable heat settings:
This product has ten different heat levels. This feature makes this product usable to all women irrespective of hair type. If your hair is thin and damaged, you do not need to worry about whether your hair is going to get fried from high heat. Just choose the low-level heat and start curling your hair. It also has rheostat control which works to ensure that heat settings are working to the best advantage of the user.
24K gold-plated barrel:
The materials of the curling irons play one of the major roles in styling hair. Different materials leave different results while curling. Even, not all materials go well with each type of hair. This product has 24k gold plated barrel which is one of the best materials used in the curling irons. Gold is considered as an excellent heat conductor. As a result, it eases up the effortless curling session which also makes the irons look so attractive.
Soft-Grip™ textured handle:
This curling iron gets very hot so that it can be dangerous. Keeping the safety issue in mind the manufacturer added Soft-Grip textured handle. It is ensured that this iron will not slip from your hand. Its handle is so comfortable that even working with this tool regularly for a long time would not make you feel any discomfort in your hand.
Two replacement springs:
You have already come to know that this is a spring-based iron. You will not get a good grip on hair without the spring. If your hair slips on the barrel of the iron, you will not get full control. Consequently, you will not be able to style your hair desirable. You will get two spare springs to replace springs broken from wear and tear.
85 watts:
For the production of high heat, a power supply is a crucial factor. This product generates high heat to give your coarse and thick hair nice curls. 85-watt power helps to produce lots of heat.
Temperatures:
This product generates heat up to 430° F (220° C). This feature attracts a particular type of customer to this product to curl their hair easily. As the level of thickness of hair increases, a level of heat is also required to be increased. If you have this product, you will not be in a scarcity of heat to curl your unmanageable hair.
Powerful spring clamp:
Want to get beautiful curls? You need to ensure full control over your hair while it's wrapped up around the barrel of the curling iron. This product includes spring clamp powerful enough to provide full grip over your hair resulting in hassle freestyling of your hair.
Fast heat-up:
Who has time to waste by waiting for the barrel to heat up? You do not need to as the product heats up very quickly. So, you will get your style without procrastination.
For Details, Price and Coupon – CHECK AMAZON
The heavy-duty long-life heating element
There is no doubt that this tool gets hot. It is natural to doubt that if this tool can cope with the high heat. You might question its longevity. Hey! Wait up. The manufacturer did not give you even any chance to question about its longevity. It's a heavy-duty product and what about the high level of heat? Its heating element will last long enough that you will not even feel the need to get another product as its replacement.
Foldaway safety stand
During your curling session, you will not surely like it to hold in your hand until you finish up. You will need to place it somewhere. What about safety? The manufacturer addressed all sorts of safety issues. It has a foldaway safety stand because your safety is the first and foremost concern.
Extra-long cool tip
It is previously mentioned that this curling iron can produce heat up to 430° F. This is high enough to burn your fingers off. It has an extra-long cool tip as a safety measure that did not leave any chance to get your finger in the touch with the hot surface of the barrel.
8-ft. the heavy-duty tangle-proof swivel cord
The cord of this product is 8 feet long that will suffice the free movement with the iron. Long cord normally gets tangled but in this case, not even a chance because it has got tangle-proof swivel cord.
Nothing in this world is perfect. You will always find darkness under a lamp. Here are some disadvantages to this product:
One-Year Warranty: You will only get a one-year warranty from the manufacturer which will certainly create some inconveniences for the customers.
On / Off switch: It does not have auto on/off function. It contains on/off switch which is a downside of this great curler. Sometimes this may create a hassle for you.
Summary of the individual review of Hot Tools Professional 1110 Curling Iron with Multi-Heat Control, Mega 1 ¼."
Summary of Hot Tools Professional 1110 Curling Iron
Overall Rating by Author -

9.4/10
Final Verdict
There is no scope to choose curling iron through trial and error. So, do not take any inconsiderate decision which might have a long-term adverse impact on your hair. In short, this is an iron you need to collect for your hairstyle.
Comments Rating
( reviews)