Having a bad hair day? Looking for a hair designing tool that does not take up a lot of your time? The solution for this problem of yours would be Tourmaline Tools 1 1/2″ Curling Iron (#2102).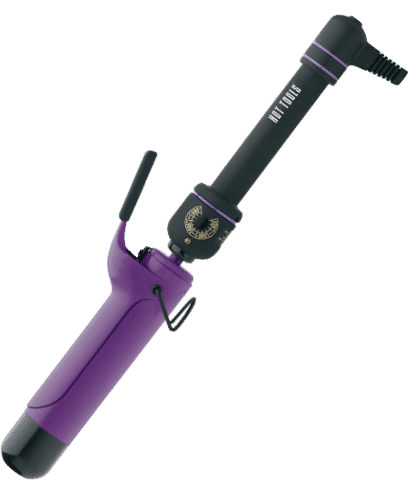 This iron is manufactured with the latest technology. It has features that appreciate the demands of the users. There are also some sensitive issues for which users look for solutions in a beauty product. The Tourmaline Tools 1 1/2″ Curling Iron is free from these matters. Carrying the same appearance (regarding hairstyle) every day has been found as a primary reason for causing depression and a stagnant situation in our chaotic life. We are all busy to catch the early appointments, to meet up deadlines or to attend a get together after work or school. The Tourmaline ceramic curling iron can be a solution for all these hassles.
Hot Tools Professional 2102 Curling Iron Specification
Item
Details
Product Name
Hot Tools Professional 2102 Curling Iron
Brand
Hot Tools
Product Color
Purple color barrel with black handle & cool tip
Barrel Size
1 ½"
Material
Tourmaline Ceramic barrel
Best Suited Hair Length
Long hair
Best Suited Hair Type
Thick/Coarse hair
Best Suited Hair Style
Great for creating retro waves and beachy styles
Specialty
In this blog, this curling iron is selected as best for curly hair type
Overall Product Size
14.8 x 2 x 3 inches
Weight
1 pound
Voltage System/Limit
110V
Plug-in system (US/Europe)
US plug-in system
Chord length
8 feet swivel cord
Heating Temperature
4 different heating Temperature




Low/power on: 280°


Medium: 330°


Medium-High: 380°


High/Max: 430°



Why you should buy this product?



Far-infrared heats seal cuticles, preserves natural moisture


Reduce frizzes and improve shininess


Multiple heat settings


Nice grip


No crease lines after usages


Heats up faster for patented pulse technology


Longer lasting curls



Negative issues of the product



Not dual voltage


No auto shut off


Purple coatings comes off



Additional Equipment



Strong spring clamp


Foldaway safety stand


User Guide



Price
$31.99
Warranty
1 year
The Tourmaline Tools 1 1/2″ Curling Iron (#2102) is a well-designed curling iron. There are many features about the product that make it one of the most desired curling irons. Some of the user-friendly and useful features of the curling iron have been mentioned below:
---
---
Pros
Patented Pulse Technology
The Tourmaline Tools 1 1/2″ Curling Iron has Pulse technology installed in it. This technology enables the product to get hot faster than most other curling irons of this range. Thus, it helps to create voluminous curls and lasting waves.
Heat control up to 430F
The maximum temperature of this curling iron can be set at 430F. One of the specialties of this iron is that it heats up quickly. The heat or temperature movement can be controlled to avoid any mishap.
Tourmaline Ceramic barrel
The material of the barrel of the curling iron is Ceramic. It is available in purple color. The ceramic coating is advantageous for your hair. It radiates far-infrared heat to preserve hair's natural moisture. As a result, it does not make your hair rough. The presence of tourmaline produces ions that seal the cuticle of the hair. It makes hair shinier.
Ease of use
When the user has longer hair, it usually takes a while to curl it. For that purpose, the grip or handle of the curling iron has been built soft. Also, the tip of the curling iron is long and it remains fresh due to the inbuilt pulse technology to avoid burns in hands and faces.
For Details, Price and Coupon – CHECK AMAZON
8ft swivel cord
One of the biggest problems of curling hair is tangling which results in the damage of hair. Often the cords are responsible for hair tangling while curling and not getting the expected effect. To avoid that risk the Tourmaline Tools 1 1/2″ Curling Iron comes with 8ft swivel cord. The cord is flexible and rotates while curling hair, therefore, it reduces the degree of tangling and friction. It results in shiny and natural curls.
A healthier option for hair
The Tourmaline Tools 1 1/2″ Curling Iron is a healthier option for hair than most other curling irons. It does not take away the natural moisture of the hair and creates shiny and bouncy curls. It does not burn or damage hair and most importantly does not leave crease line on hair. Crease lines make the hair look dry and damp and take away the natural look of the curls.
Cons
No tool is free of limitations. So is this one. But we can hope that in future, with the development of technology, these few limitations will be overcome.
No auto shut off feature
While all the modern curling irons are enabled with auto shut-off feature, this particular curling iron lacks that.  No feature in this curling iron will automatically shut-off the iron when it reaches a specific temperature. This feature is installed to avoid burns in the face and hands when the iron becomes too hot. So the users have to ensure that they use the tool carefully.
The ceramic purple coating comes off
In some of the cases, the ceramic purple coating of the Tourmaline Tools 1 1/2″ Curling Iron (#2102) wears off after a while. The product works great, but you have to be careful about the ceramic coating. The ceramic coating is coming off may hamper the hair.
Summary of Hot Tools® Tourmaline Tools 1 1/2" Curling Iron (#2102)
Overall Rating by Author -

9.4/10
Final Verdict
This curling iron has created an uprising in the world of beauty and style. It is recognized to be one of the highest quality curling irons available in the market. So go to any store to grab yours or buy it online. Make sure you do not miss the blessing of this technology.
Comments Rating
( reviews)