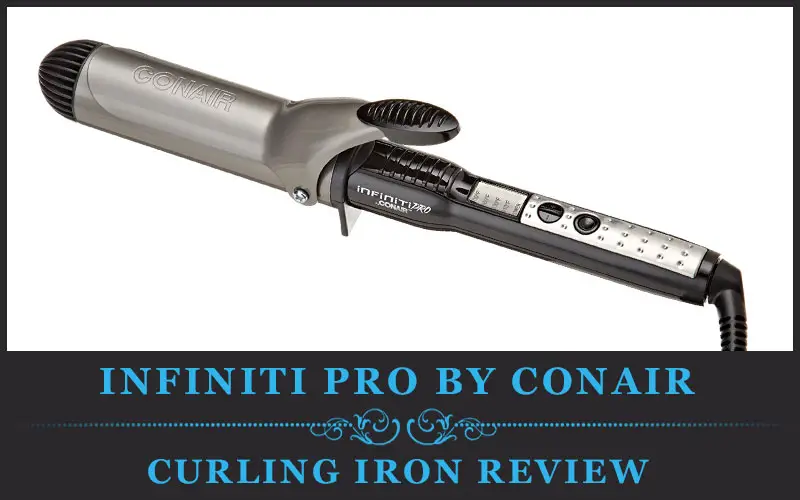 I love my hair. I always prefer the best product for my hair because I do not even think of anything that could result in irrecoverable damage to my hair. In selecting curling irons for my hair, I have done the most extensive searching for the safest tool. It is so likely that your hair could easily get damaged from the high level of temperature. You cannot escape high heat because it is an integral part of the curling process. I have selected the tool that has the best materials used in the barrel. Never go for anything that has used the cheap material in its barrel. Infiniti Pro by Conair Nano Tourmaline Ceramic Curling Irons is the solution to all issues I figured out. Conair is offering different barrel sizes which will influence you to try them for various results. So, decide very carefully while selecting the perfect barrel width that fulfills your curling goal. The information mentioned below will greatly help you to understand which barrel size of Infiniti Pro by Conair Nano Tourmaline Ceramic Curling Irons you need to buy.
| Barrel width | Best suited hair size | Results |
| --- | --- | --- |
| ¾ inch | Very and medium short hair | Classic curls |
| 1 inch | Medium short hair | Loose curls |
| 1 ½ inch | Long hair | Voluminous curls |
Infiniti Pro By Conair Nano Tourmaline Ceramic Curling Iron Specification
Item
Details
Product Name
Infiniti Pro By Conair Nano Tourmaline Ceramic Curling Iron
Brand
Conair
Product Color
Bright Pink handle with Ash color barrel
Barrel Size
1 ¼" (Bright Pink);
Other sizes with different color handle:
• ½"(Red)
• ¾"(Purple)
• 1"(Blue)
• 1 ½" (Black)

Material
Ceramic
Best Suited Hair Length
Very short to long hair
Best Suited Hair Type
Thin, average, thick and coarse hair
Best Suited Hair Style
All
Specialty
Best curling iron for wavy hair, Nano tourmaline ceramic and 5 years warranty
Overall Product Size
14.5 x 6 x 2.5 inches
Weight
Shipping weight: 15.2 ounces
Voltage System/Limit
110 V
Plug-in system (US/Europe)
US outlet
Chord length
4 feet
Heating Temperature
5 different settings:




Low (285°F)


Medium (310°F)


Medium-High (330°F)


High (360°F)


Max (400°F)





Why you should buy this product?



Ceramic Technology gives faster heating within 30 seconds


Auto turned off


Multiple heat settings


Extended warranty life


Protective shield


Reduce frizzes


Keeps the curls for 24 hours




Negative issues of the product



On/off switch & temperature switch placed in awkward place


Small cool tip


Not dual voltage


Need Adopter & Converter for outside of USe



Additional Equipment



User guide


Defensive heat shield for storage and safety



Price
$19.99
Warranty
5 years
Following features will surely convince you
---
---
Extra-smooth tourmaline ceramic surface
The high temperature is harmful to hair. Hair which is being regularly exposed to high temperature gets damaged. Thus, you need to pick curling irons that give you long-lasting curls at the same time take the best care of the health of the hair. How could this be possible while you need a high temperature for longer-lasting curls? The answer to this million-dollar question is to get a unit of Infiniti Pro by Conair Nano Tourmaline Ceramic Curling Iron. Nano Tourmaline Ceramic technology produces more natural negative ions than a curling iron could produce. These natural ions work for shiny hair that you will love. You will get control over your mind-blowing curls for 24 hours even in humidity. In other words, elimination of hot spots and reduction in static and frizz resulting in healthy-looking hair is the real gift of this nano-technology.
30-second heat-up
Time is money. You need an efficient curling tool that is worth paying for. You will not tolerate any tool that makes you wait. These units are so efficient that it heats up within 30 seconds. Amazing right? So, get dressed and get one of these products.
Five precision heat settings
These products have five heat settings to ensure salon-quality curling. These heat levels made these curlers usable for all types of hair. You can monitor the temperature in LED heat settings. You just need to set the temperature first according to your hair type.
| Temperature Level | Hair Type |
| --- | --- |
| Power/Low 285ºF | Thin hair |
| Medium 310ºF | Average to thick hair |
| Med-High 330ºF | Thick hair |
| High/Max 360ºF - 400ºF | Coarse hair |
Auto-off
It is unsafe to keep any tools turned on and unattended that get burning hot. Whenever you are in a hurry, you cannot confidently say that you will be able to do everything with perfection. You may leave the curling iron turned on and plugged in. It may get too hot and get burnt. There is not even a little chance of this type of incidences as long as you have one of these products. It has an auto-off feature that ensures the curler automatically turns off within 60 minutes.
The protective heat shield included
These curlers get hot enough to damage anything that might come in contact with its barrel. As far as your safety is the highest concern of the company, they included heat shield protection. It ensures the highest protection for the users from any possible hazards.
Limited five-year warranty
Warranty is an important issue that customers always prioritize. All of us would want to get coverage against unusual and unpleasant experiences that might occur from defects in workmanship or materials.  A product that you love most for its warranty provision. A warranty for five years is a pretty influential factor while making any decision for purchasing a curling iron product. You get one of these curling irons and keep curling your hair without thinking about its longevity. You will get your curler repaired or replaced by Conair for five years or 60 months calculated from the date of purchase in case of any defects found in workmanship or materials.
For Details, Price and Coupon – CHECK AMAZON
Disadvantages
Switches like on/off switch and temperature switches are positioned in the wrong place.
The tip is tiny to hold on.
Summary of Infiniti Pro by Conair Nano Tourmaline Ceramic Curling Iron
Overall Rating by Author -

9.4/10
Final Verdict
If I get all types of curls from one product, then why I would go for another product. The quality of Conair products is beyond question. I have bought all the barrel sizes of this products. I just pick one according to my intended result. As I am using these curlers, I can assure you that you will regret if you do not use these products.
Comments Rating
( reviews)