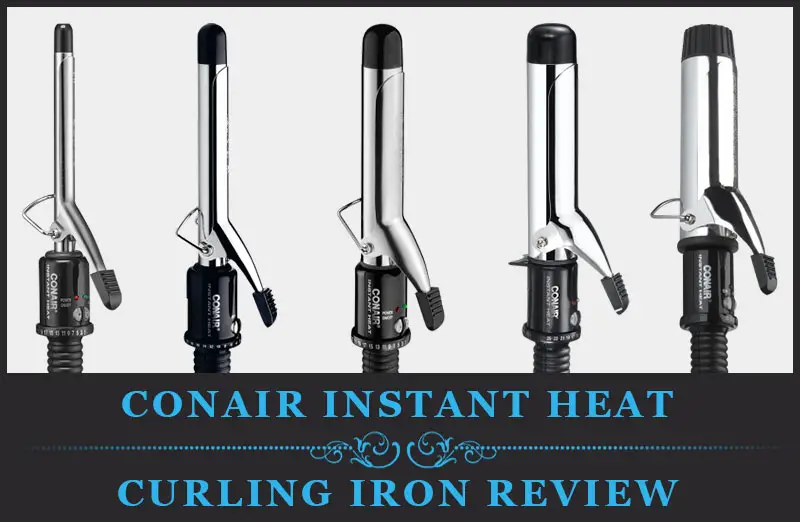 Hair is the best ornament you can ever wear. You are already enough blessed with your gorgeous hair by Creator. What else can make you feel better and more confident than a perfectly styled hair?
The theory is simple. The art and craft of nice hair are to take care of your hair to the best level. And you will get the best hair which everyone will admire.
Women have always been busy with making hair more uniquely beautiful and gorgeous. For this, they have always been curling, straightening and also coloring their hair with less effort. And when it's time to curl hair, the first thing that strikes the mind is which one would be the best curling iron?
If you are a travel lover and searching for a curling iron which has dual voltage facility with multiple heat settings in a comfy lightweight size, Conair Instant Heat Curling Iron 1 Inch could be a good choice to try! Read our article to have a clear concept of this product.
Conair Instant Heat Curling Iron Specification
Item
Details
Product Name
Conair Instant Heat Curling Iron
Brand
Conair
Product Color
Shiny silver colour chrome barrel with black handle
Barrel Size
5 different sizes: 1", 1 ½", 1 ¼", ½", ¾"
Material
Chrome barrel
Best Suited Hair Length
Short and medium
Best Suited Hair Type
All hair types
Best Suited Hair Style
Retro waves and beachy styles
Specialty
Dual Voltage technology, 25 steps heating system
Overall Product Size
11.5 x 3 x 3 inches
Weight
8 ounces
Voltage System/Limit
Dual (110/120 and 220/240)
Plug-in system (US/Europe)
US outlet
Chord length
5 feet
Heating Temperature
25 heating levels; maximum temperature: 390°F
Why you should buy this product?



Very light in weight


Dual voltage facilities


Turbo heating system


Durable patented Europe design


Multiple temperature control


Instant heat within 30 seconds


Auto shut-off technology


Very cheap price


Comfortable handle for nice grip



Negative issues of the product
Additional Equipment



User guide


Tangle-free cord



Price
$9.99
Warranty
2 years
Why Conair Instant Heat Curling Iron?
Conair Instant Heat Curling Iron has an efficient Instant Turbo Heating System that generates even heat all over the Chrome Barrel without hair damage. The heating technology helps the barrel to get hot within 30 seconds which is early enough. The user can easily get a voluminous look by using 1" smooth surface barrel. This curling iron comes with 25 heating control system; maximum heat: 390°F. Conair Instant Heat Curling Iron is very cheap in price. It's also a very compact curling iron set comes with a Dual Voltage facility which makes it a Travel-Friendly.
---
---
An overview of product Qualities
We are here to help you knowing about all the details about Conair Instant Heat Curling Iron. Let's have a glance on the overview of the product that will help you to know about this curling iron setter before trying it. Keep scrolling—
Heating Facility
Conair Instant Heat Curling Iron has a high heating facility. This iron heats up to a maximum of 390°F. This impressive heating facility allows you to provide your hair with perfect temperature and helps you to control your rowdy hair.
For Details, Price and Coupon – CHECK AMAZON
25 Temperature Controls
Multiple temperature control option makes this curling iron a different one. The more the options are, the easier it does get work done perfectly. 25 different heating facilities help you to set the perfect heat for your hair. Just choose the ideal level among them and go for a happy curling session.
Instant Turbo Heating System
No one loves to waste their valuable time for setting hair especially when they are in a hurry. To make the process fast and perfect, this curling iron setter has a Faster Heating facility. It takes only 30 seconds to reach the perfect temperature. Moreover, this iron has the Turbo Heating System which boosts the temperature by 20°C.
Suited for All Hair Types
Thinking that this iron would suit your hair type or not?
No need to get worried! This iron is designed fairly that it can be suitable for any hair type. So feel free to use this one!
1" Smooth Surface Oriented Chrome Barrel
The barrel size of Conair Instant Heat Curling Iron is 1". This type of barrel size is great for full curls and defined waves. And if you have short or medium hair, then this curling iron is just perfect for you! Hairstyling can be done easily with this barrel size. For retro waves and beachy curls, this barrel size has no other option. The surface area of the barrel is Chrome. It is so smooth and non-sticky that hair does not get trapped during curing. Even cleaning is now easy because of the chrome surface.
This curling iron also comes with different sizes of the barrel. They are like 1 ½", 1 ¼", ½" and ¾".
Patented Europe Design
For the certification of delicately fine design, this iron has licensed Europe design. That means this iron has a perfect, user-friendly and durable design's certificate.
Auto Shut-Off Technology
There will be times when you will forget to turn the iron off and leave it at home unmindfully. It might cost you heavy fees for electric bills. This curling iron has the solution to reduce your tension instantly! It has auto shut-off technology. Even if you forget to turn it off, this will get turned off automatically and make you and your home risk-free.
Dual Voltage Facility & Plug-in System
Traveling abroad is now very easy with this curling iron. You don't have to face energy issues while traveling. This iron comes with a Dual Voltage facility. It supports North American standard approximately 110-125 voltage along with the range of 235- 250 voltage of foreign countries.
It has a US Plug-in system. Use an adapter plug if there is different plug outlet than the US.
Tangle-Free Cord
Many of the users of curling irons' have faced a common problem is tangled in the cord. It's so much annoying when you are in a hurry. This iron has a tangle free 5 feet swivel cord which gives you the facility to use this iron without any tangle.
Comfy Size & Weight
This curling iron is easy to carry and pretty handy. It has the privileged to carry this to anywhere and to use this iron as long as you want without hurting your hand. This iron weights only 8 ounces.
The dimension of this iron is– 11.5 x 3 x 3 inches. Its compact size gives you the handiness you would want to see in your iron.
Warranty
This iron gives you two years of warranty service. So in case, there is any technical fault you will get free service until two years.
Check Some Negative Issues before Buying
All products have some positive and negative issues. This one is also not different from others. So check those issues before buying. They are like—
Limited warranty time
Need adapter plug for different plug outlet than the US
No heat resistive hand glove
Some Helpful Tips for Curling Iron
Please use your Curling Iron safely. Unmindful usages can lead to an accident
Do Shampooing before using the curling iron. It will give your curls extra shine
Blow-dry hair upside down with your hands until hair is completely dry.
Do not curly hair when it is damp/wet. Curls will not look nice as you wanted. Curling damp hair could be damaged your hair
Use hair mousse or curling cream to hold curls for a longer time.
Clean your barrel properly after using it
Always carry an International Adapter Plug while traveling.
Summary of Conair Instant Heat Curling Iron
Overall Rating by Author -

9.4/10
Final Verdict
Conair Instant Heat Curling Iron has almost all the facilities to be a best combination curling iron as well as a travel-friendly curling iron. Strong working ability, compact size, reasonable price, and light weight can make this iron a nicer one that it could be your regular hair curling setter.
Break the trend of boring hairstyle; give your hair what it deserves. Play with Conair Instant Heat Curling Iron to get shiny, gorgeous and long lasting damage free curls!
Comments Rating
( reviews)